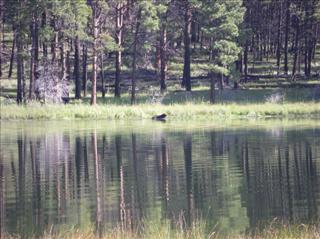 Description: Ted Turner's Vermejo Park Ranch in northern New Mexico is the largest privately owned, contiguous tract of land in the United States. Encompassing 900 square miles and six biogeographic life zones, Vermejo Park rivals many western National Parks for sheer size, biological diversity, abundance of wildlife, and fishing opportunities. The Rocky Mountain Angling Club is an affiliate partner with Vermejo Park, meaning that RMAC members can enjoy Vermejo's 21 lakes and 31 miles of streams at 15% off the ranch's standard guest package of $550 per day, which includes world-class lodging, meals, fishing, and additional amenities.); INSERT INTO `wp_rmanglingpostmeta` (`post_id`, `meta_key`, `meta_value`) VALUES (o a reservation, call the ranch at 505-445-3097. RMAC members must mention that they belong to the Club when making reservations. Please call RMAC after making a reservation to let us know the dates you will be staying there.
Location: New Mexico
Capacity: N/A
To make a reservation call 303-421-6239 or 1-800-524-1814.
Rate Notes:
Rates:
Property Log Book Comments
Spectacular ranch. Great food and lodging. Not cheap, but you get what you pay for. Almost all ranch guests head for the lakes. I had the streams all to myself. Being this was my first visit I hired a guide to show me around. I highly recommend a guide the first day, after that you will have it all figured out. After lunch go back out to any of the three creeks which you will most likely have to yourself. Have a blast catching and releasing wild brookies, browns and cutts in the 6"-12" range all afternoon. Quit about 5:30PM, then back to the lodge for a shower, then a drink or two before a fabulous dinner. Get to bed early. Rinse and repeat. This ranch operates a bit differently than most others. You will wasn't to spend the night before your first day in Raton (the Holiday Inn Express is the best choice). Then get up early and drive to the ranch for breakfast and your first day of fishing. I'll be back next year for shure. Chris ~ Chris Bernard -- August 1st, 2015
Beautiful property with great service, food and facilities. Fished ranch stillwaters that hold rainbows, brookies, browns and large green carp. Primarily fished Munn lake catching mostly rainbows on black mini-leaches, callibaetis nymphs and emergers and damsel nymphs. Fantastic dry fly action with a callibaetis hatch from 11:30 to 2 with fish taking parachute Adams and callibaetis emergers trailed off the dry (parachute adams or lg ant pattern). Average size of rainbows was 15 inches with three 20 inch fish landed. Carp took nymphs and one took my size 14 parachute Adams. Not inexpensive, but nice experience. ~ Bruce Kautz -- June 20th, 2013
I have been going to Vermejo for about 12 years now and I think this was my 15th separate trip. It is an incredible place that you should experience if you have the chance. Primarily stillwater fishing to very large fish. Our fish of this trip was a 6.25 # rainbow who took the indicator hopper fly. A stay here is not inexpensive but given the quality of the experience, lodging and great food I still think it is a bargain and you will have memories that last for years. ~ John Chandler -- June 7th, 2009
Was invited as a guest Truly extraordinary experience ~ Laura Carpentier -- September 1st, 2003