Little Laramie River and Brown's Creek D-70
//php woo_post_meta(); ?>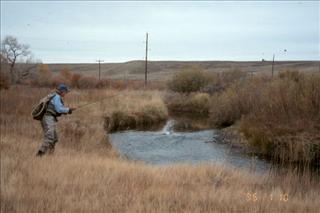 Description: The Little Laramie River offers over 6 miles of classic meadow fishing in southern Wyoming. It is noted as an excellent brown and rainbow trout fishery with open to moderately willowed stretches that include ample bend pools and undercut banks. An average size for fish is 11 to 13 inches but every year several fish in the 18- to22-inch class are hooked and landed.
Location: Located 15 miles west of Laramie, WY, the property is less than a 90-minute drive from the Front Range communities of Loveland and Fort Collins and only 2.5 hours from Denver.
Capacity: Up to 8 anglers are allowed.
To make a reservation call 303-421-6239 or 1-800-524-1814.
Rate Notes: A $60 Wyoming license is required.
Rates:
Everyday
Adult


$75.00

Everyday
Adult 1/2 Day


Everyday
Adult Aftn.


$60.00

Everyday
Child


$0.00

Everyday
Youth


$60.00

Everyday
Youth 1/2 Day


Everyday
Youth Aftn.


$45.00
Property Log Book Comments
Four of us fished the Little Laramie. Flow of about 65 cfs is about twice the average for this time of year, but still tough to fish. The day was partly cloudy in the 50's, with rain moving in during the afternoon. There was wind, but it wasn't that bad. Water temps in the mid to upper 40's. Fish were hunkered down in brush, moss, and undercuts. We saw no fish actively feeding at any time during the day. They were, however, in ambush mode. Between the four of us, we caught around 30 fish on the day. Everything on streamers. Boogers, sculpins, and muddler minnows of most any color seemed to work. Stealth and long casts were required to catch fish. Most fish were browns and ran from 10 to 16 inches. Largest brown was 18" accompanied by a 22" and 24" rainbow. ~ Vic Walker -- October 14th, 2013
Low flow (70 cfs) and high winds (gusts to 40 mph) made the fishing challenging at best. Started at upstream boundary with streamers but quickly changed after becoming tired of cleaning moss off of them every cast. Switched to dry/dropper and landed a few brown trout on purple prince nymph. Drove down to ranch house after lunch and fished the short stretch of the Little Laramie for a couple hours... wind had calmed slightly and far more fish were evident. Caught several more browns up to 17", all on the dropper, with purple prince being the fly of the day. ~ BH -- May 8th, 2013
Very windy day w/ gusts up to 40 mph put a damper on an otherwise beautiful spring day. Was only able to stand about 3 hrs of fishing due to the wind but caught some nice fish. Parked at the upper end and fished mostly streamers... majority of hits were on lighter colors, copper seemed to work best. Tried a nymph rig w/ a hare's ear and a pheasant tail but had no action. Highlights were a 20" rainbow and an 18" brown, both on the copper colored streamer. ~ BH -- May 1st, 2013
Two of us decided to give this property a try this weekend. We arrived on the water at 9:00 a.m. to sunny skies. It stayed sunny all day despite clouds to our east and west. We saw bugs of all kinds. PMDs early, caddis, brown drakes, green drakes, and yellow sallies later with a few red quills. The drakes are huge, size 12 to size 8. The fish were mostly looking up. We had the most success on a size 14 yellow stimulator although fish were caught on humpys, caddis, and hoppers. We did have some luck on the dropper as well. Mostly on a large bh pheasant tail with a couple on a caddis pupa. One fish was caught on a wooly bugger. We caught about a dozen fish each with many more lost. Most in the 14 to 16 inch range. Largest was a 19" rainbow. All but two of the fish caught were browns. The fish were in the riffle or shade. It got a little difficult from about 1:00 to 3:00 p.m., but once the sun started going down the fishing picked up. Be warned if you go, bring DEET and consider a head net. The mosquitos got so bad in the evening we were inhaling them. The bugs were bad, Alaska bad. ~ Vic Walker -- June 18th, 2012
Very good day. Water is in perfect shape, clear, good flow, perfect temp. There are mosquitoes however. There were caddis hatches all day long and a PMD hatch that lasted 2 hours starting in the late morning. Caught about 25 fish ranging from 10 to 18 inches. Most were 10 to 14 inches but at least 4 at 18 inches. Caught fish on Caddis, s12 PMDs and a few on streamers. Fished up Brown's Creek to the confluence and from there up the Little Laramie to the top. ~ Jeff C -- June 7th, 2012
Display All Log Book Entries