Upper White River & Pond C-69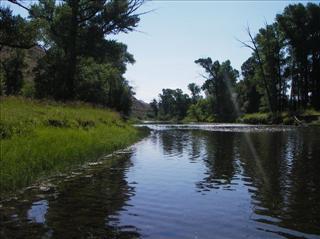 Description: A 3/4 mile of the White River which includes a 2-acre pond. This property is great for the whole family. Mom and dad can enjoy the river and the kids can work the pond. The river offers excellent freestone angling. This 40- to 50-foot wide section flows swiftly through a lovely cottonwood, oakbrush and juniper-forested canyon.
Location: From the town of Meeker travel northeast towards Trapper's Lake on CR 8 approximately 15 miles.
Capacity: 3 anglers per day but not more than 12 anglers per week.
To make a reservation call 303-421-6239 or 1-800-524-1814.
Rate Notes:
Rates:
Everyday
Adult


$90.00

Everyday
Adult 1/2 Day


Everyday
Adult Aftn.


$67.50

Everyday
Child


Everyday
Youth


$67.50

Everyday
Youth 1/2 Day


Everyday
Youth Aftn.


$50.63
Property Log Book Comments
Two of us fished C-69 Saturday from 11am - 5pm. Nice short stretch of water. Runoff has started with discoloration. Landed about 4 bows and a couple whitefish. Biggest bow was about 20" on a #20 top secret midge. Spent time from the bank and float tube on the pond and came up empty handed. No rises or cruisers seen. ~ Brian -- April 29th, 2012
First time on C-69, although have fished our prior leases and the public water on the White over the years. Would prefer a lower flow than 440 CFS--could cross above the donkey pool but not easy. Water was cold and only caught one rainbow in the AM . Fish turned on after lunch and took many small bows and whitefish, although only one larger bow (18") on a stonefly. Almost all fish were caught in the donkey run in deeper water--fish were not in the riffles. May be getting a little late in the year--nothing on top. Did not fish the lake. Nice property and will return. ~ Dave M -- September 30th, 2011
I fished C-69 midweek on a perfect early fall day--light NW wind, mostly sunny, 78 degrees. The water was slightly off-color green, but that may be normal. The flow was up slightly due to rains earlier in the week--running about 275 CFS. I was surprised to find that the wading was challenging at that level--but the current in this stretch is strong in places and the rocks are VERY slippery with a mossy coating in many places. The fishing was great--a Rocky Mountain grand slam of rainbows, browns, cuts, and ....whitefish. I started at the Donkey Pool at the downstream end of the property, which is deep,long,and fast. Fished a royal trude (#14) with a red copper john dropper. It took a bit for the trout to warm up, but when they did, the action was steady. Look for quiet spots up against the bank out of the current and small holes in moderate currents below rapids/riffles. Biggest fish was a 20 inch rainbow on a #6 conehead black wooley bugger. 4 other rainbows went around 18 inches (2 on the red CJ (#16), 2 on the trude) and lost one rainbow that was 20 inches++ just above Donkey Pool on the CJ. Total for the day was around 40 with 20+ rainbows, 10 fat, fighting whitefish, and the rest a mixed-bag of browns/cutts/cutbows. Late morning and afternoon I started picking up some nice rainbows and cutbows on the big trude, which made for a fun day. Ended up with some fat rainbows at the top of the property in and around the drainage channel. Used a 4 and a 5 weight rod and 4X and 5X leaders. Fish were not leader shy. Saw some nice trout finning about in the pond, but no time to fish it. There is a small boat w/paddles available. Early and late on the pond would probably be best as the water is very shallow and clear, and the trout a bit skittish. This property is definitely worth the trip--strong, healthy fish in a beautiful valley. Just too much good water up here to fish in a weekend (don't overlook Coal Creek.) ~ Chris Duerksen -- May 10th, 2009