North Fork of the North Platte - Upper Ranch C-62
//php woo_post_meta(); ?>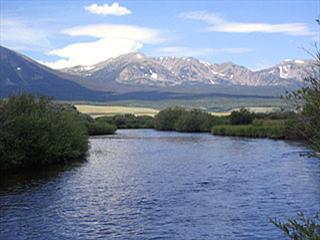 Description: The Upper Wattenburg Ranch lies in a scenic valley between Mt. Zirkel Wilderness and Sheep Mountain. The North Fork in this region has seldom been fished, and it has a healthy population of rainbows and trout averaging 10-14 inches. The property also has a small pond, which is suitable for children.
Location: This property is located in northern Colorado, approximately 15 miles west of Walden.
Capacity: Limited to 3 anglers. A higher number is permitted if in one group.
To make a reservation call 303-421-6239 or 1-800-524-1814.
Rate Notes:
Rates:
Everyday
Adult


$75.00

Everyday
Adult 1/2 Day


Everyday
Adult Aftn.


$56.25

Everyday
Child


$0.00

Everyday
Youth


$56.25

Everyday
Youth 1/2 Day


Everyday
Youth Aftn.


$42.19
Property Log Book Comments
My guest John and I only got to explore about 1/2 mile of the stream in our short day there. Still, we caught 10+ fish apiece. The smallest were around 10", the average was probably 16" and the largest was over 20". For the most part we caught rainbows but John hooked a hard-fighting sucker and I caught a good-size cutbow and a nice 12" brookie. We got to meet the very friendly owner, Nancy, who provided some useful thoughts. Notably, that during cold, clear days (like we had) she suspects that the fish hold in the deepest pools and bends, which are plentiful (as are the fish). ~ Larry G. -- September 27th, 2017
Our newest Club member/ Orvis guides, C Lazy U Ranch, reports fine angling on mayflies, both cripples and emergers. RMAC chief gardener Jimmy Stogner says never leave home without an ample supply of red SJW's and black or natural Slumpbusters, with a random deer hair mouse thrown in tight to the grass, or underneath the ranch bridges when probing the N Fk for river monsters. Hopper/droppers are producing as well. Happy fishing. ~ RMAC staff -- July 13th, 2016
Water conditions were great but the fish population seemed to be down from past years. The water appears to be more silty than in the past, maybe from the cattle grazing. No cattle were seen on the property today. Three rainbows over 16" on black zonkers and 4 Cutthroats (6 to 10") on pheasant tails. No rising fish today. ~ Gary W -- August 18th, 2015
3 of us fished all day. The water level is great, high and clear. Few bugs flying as well as few fish rising. Hopper dropper rigs picked up more fish than streamers. No hogs but nice fish, mostly Browns. All nymphs picked up fish. Cattle did muddy the water from time to time. ~ Stu Stout -- July 29th, 2014
Beautiful property in North Park. Cloud cover and mild temperatures. Normally have chances at large fish here. Unfortunarly it looks like there has been a lot of traffic recently. Lots of boot prints in all the approach spots, even some fresh ones from the morning on the day we fished it. We caught some fish, but only one over 14". Tried all the previously successful flies and tactics, SJ worm worked the best. ~ M Vineyard -- August 12th, 2013
Display All Log Book Entries