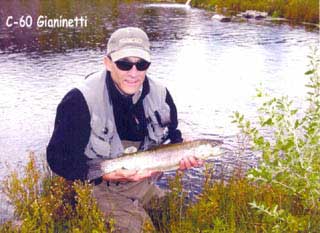 Gianinetti Spring Creeks, Roaring Fork, Ponds C-60
//php woo_post_meta(); ?>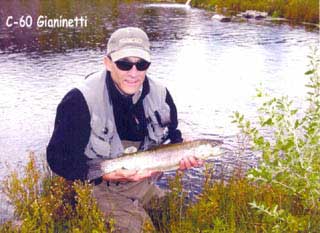 Description: The Gianinetti Ranch serves RMAC members a full plate of flyfishing choices. Two miles of intimate spring creeks, three-quarters of a mile of the broad Roaring Fork River, and two spring-fed ponds add up to make this one of the premier flyfishing properties in Colorado.
Location: This property is located just outside of Carbondale, about 12 miles southeast of Glenwood Springs.
Capacity: Limited to 4 anglers. Up to 6 anglers permitted if in one group.
To make a reservation call 303-421-6239 or 1-800-524-1814.
Rate Notes:
Rates:
Everyday
Adult


$150.00

Everyday
Adult 1/2 Day


Everyday
Adult Aftn.


N/A

Everyday
Child


$0.00

Everyday
Youth


$97.50

Everyday
Youth 1/2 Day


Everyday
Youth Aftn.


N/A
Property Log Book Comments
Not your typical winter fishing outing. Although water temperatures hovered between 41 and 43 all day, I managed to bring about a dozen fish to net for an excellent afternoon on a ranch that has a long standing reputation for delivering. It is now fair to add the month of January to the list of productive months for this property. In all fairness I did benefit from a warmer spell leading up to my outing. While the spring creeks were free flowing with just a little ice on the edges, the ponds were about 2/3 covered in ice. Still, the fish were active just about everywhere on the property. I never made it down to the Roaring Fork. I had to go deep to find the fish and after some switching around, a combination beadhead prince nymph with a red san juan worm did the trick. Steady rain and an approaching snow storm finally chased me off the property, quite happy for the chance i had taken. ~ Fabrice -- January 21st, 2018
Once again Gianinetti ranch did not disappoint. With the help of mild weather and overcast skies, we managed to land a decent number of fish between 2 fishermen, with a couple specimen in the 20 inch range. The spring creek and ponds kept us so entertained that we never ventured over to the Roaring Fork. Conditions and time of year were conducive to the use of streamers, in black and olive, and they produced good results throughout the day, especially later in the afternoon when takes became less tentative. Great day on a property that offers a broad range of fishing opportunities. The only thing missing was a good BWO hatch. Sadly it never materialized... ~ Fabrice -- November 5th, 2017
Hoppers. Fished alone and landed 18 all on hoppers. Missed another 5 or 6 on good takes. Bank weeds are getting high so good casts are a must. ~ Ken B -- September 6th, 2017
Guided a colleague and his 6'8" son for their first Fly Fish. Weather was perfect. Started on the creeks, each caught a number of rainbows 3"-19", one very nice buck. Caught on a hackled swing fly (Nymph Rigs), foam backed emergers and chocolate nymphs. After lunch to the ponds for some streamer and dry fly back casting lessons. A bit slower afternoon but both caught 4-6 fish each on Streamers and a couple fish on Caddis and dropper. For their first time, by the end of the day both had good back casts and good dry fly landings on the water for takes. ~ George Schmidt -- September 3rd, 2017
Due to heavy rain, the Main Fork was too muddy to fish when we arrived. The North Fork was in great shape, full to the brim but clear. We fished it from the confluence with the Main Fork all the way to the end of the property. We each had well over 20 fish, ranging from 10" browns up to a massive 22" rainbow that ate a size 18 'secret fly'. Most of the fish were in the 15" to 19" range. I fished with a #16 Bead Head Pheasant Tail trailed by a #18 Ray Charles. Most of the fish ate the Ray. We did get some fish on small hoppers upstream and the fields were full of small hoppers - bodes well for later in the season. The streamer bite was very good going downstream - the killer was a red and black Wooley Bugger with a stinger hook. The pond is filled with weeds and there are only a few fishable spots. the Main Creek is very weedy above the parking area but it cleared up in the afternoon and we caught a number of fish downstream from the parking area. The mosquitoes and deer flies are out, bring bug repellent. Another great day at Gianinetti's. ~ Robert Hesse -- July 28th, 2017
Display All Log Book Entries