North Fork, White River & Pond C-58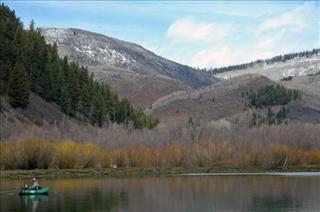 Description: Cutthroat and rainbow trout thrive in this half-mile section of the swiftly-flowing North Fork of the White River above Buford, CO. The north fork originates just a few miles upstream of the Welder Ranch in scenic Trappers Lake and is well known as one of the last bastions of the Colorado River strain of cutthroat trout. It is a classic mountain stream with pocketwater, swift runs and occasional pools. The trout average 10 to 14 inches with larger fish from 18 to 20 inches. The scud-filled 2-acre lake holds hard-fighting browns with some monster rainbows reaching 7 pounds. There is a lovely cabin available as well as a camping spot with electrical hookup.
Location: Located above Buford 1/4 mile before mile marker 29. The ranch is approximately 31 miles from Meeker.
Capacity: 2 anglers/day, more if in one group.
To make a reservation call 303-421-6239 or 1-800-524-1814.
Rate Notes:
Rates:
Everyday
Adult


$60.00

Everyday
Adult 1/2 Day


Everyday
Adult Aftn.


$45.00

Everyday
Child


$0.00

Everyday
Youth


$45.00

Everyday
Youth 1/2 Day


Everyday
Youth Aftn.


$33.75
Property Log Book Comments
Two of us fished C-58 from 9am - 3pm. We stayed at the cabin the night before. Shawn Welder is a great host and stopped by to make sure we had everything we needed. Cabin is comfortable with everything you need to cook a nice dinner and keep the beer cold. Shawn tossed some fish food into the pond Saturday evening and after about 5 minutes the hogs came up to feed. Huge browns and bows are in the pond. Really need a float tube to fish since the deep side of the pond (cabin side) is very steep brushy bank. Fished the river Sunday and landed about 10 bows and cuts with one 18" whitefish thrown in for good measure. River was cloudy from a feeder stream coming in the braided area upstream. Largest fish in the big bends before the braids with one bow/cut over 20" on for a few minutes before he threw the hook and went back to the depths. Nice cut action in the deep riffles in the braids - probably upstream of the property boundary by the time you are in the braids. Beautiful valley!!! ~ Brian -- April 29th, 2012
weather was hot: 85 midday. Water temp 55 in the morning, low 60's midafternoon.Caught several whitefish on green CJ & a zug bug dropped under size 12 royal stimmy.. "Real" fish (mostly 'bows) on parachute adams, royal stimmy (size 16-18) & mayfly pattern. Nothing of great size (except 1 white BIG whitefish) but still fun. Two nice holes right where you access the river. Did not fish the pond. Fished public water water adjacent to property on Sun- royal stimmy & mayfly pattern of choice. Stayed 3 nites in the cabin-nothing fancy but functional. Shawn Welder most helpful. If more than 2 in the party, be sure you're all friends! Double bed & 2 bunk beds in the main floor bedroom-with beds in the loft upstairs. One bathroom for all. The Welders have chopped out a path thru the willows on the south side which helps. ~ Stu -- July 21st, 2010