Yampa River C-56
//php woo_post_meta(); ?>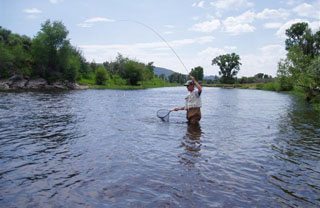 Description: 1 1/2 miles of this 90-foot-wide river. Big water with numerous runs and holes located within a huge cottonwood forest. Big rainbows, white fish and a few pike (some may exceed 40 inches).
Location: This property is located in the Yampa Valley, approximately 4 miles west of Steamboat Springs.
Capacity: Limited to 4 anglers.
To make a reservation call 303-421-6239 or 1-800-524-1814.
Rate Notes:
Rates:
Everyday
Adult


$130.00

Everyday
Adult 1/2 Day


Everyday
Adult Aftn.


$97.50

Everyday
Child


Everyday
Youth


$97.50

Everyday
Youth 1/2 Day


Everyday
Youth Aftn.


$73.13
Property Log Book Comments
My son, Caleb and 9 year old grandson Landon arrived at 7:30 am in Steamboat to cool 10 degrees F. Had breakfast, stopped by the always helpful STEAMBOAT FLYFISHER, drove to Hogue Ranch and were rigged up and at the river by 9:00. We hiked to the bridge end of the property and began in the deepest slowest pools we could find. Shelf-ice lining the banks and plenty of floating slush made the going a little tough for the first 90 minutes or so but then we started picking up 16-20" bows and browns on egg/midge rigs. Landon stayed upright in spite of the slippery conditions and an occasional floating ice barge, and he landed a few nice Trout that Caleb had hooked. He was casting his own rod too and had a couple strikes that didn't produce a fish. We started moving up toward the historic ranch house about noon and were spread out in a long slow run in front of the cliff wall, when Landon announced, "hey I got one"! He was using a 9'/5wt Sage SLT and that tip was wildly thrashing from 12:00 to 6:00 while the fish made several east-west runs with his dad loudly exhorting him to "keep the tip up", "let him run" and "don't touch that reel!" After about 5 minutes Landon coaxed the 23" Brown into Caleb's waiting net to euphoric shouting and high fives all around! First solo Trout on a Fly Rod and it was indeed a trophy! We caught a number of big and colorful Bows and Browns this day but the one that will be talked about for years will be Landon's Brown! I so appreciate the opportunity to fish these magnificent RMAC properties and especially to be able to take my family to uncrowded and beautiful waters to learn the art of fly fishing and to occasionally be rewarded with trophy size fish. Happy Thanksgiving and tight lines! Jim Barclay ~ Jim Barclay -- November 22nd, 2017
Drove up from Denver and hit the water around 9am. We fished the middle and lower section for the first half of the day. Way more runs and deep pools on bottom half of the property. Put 1 rainbow 18in in the net on a size 20 black foam back rs2. Had some lunch in town then came back and hit the middle to top sections of the property. Another nice 16in rainbow on a big black Sex Dungeon followed by 16 in rainbow on a red san juan worm. Had 2 other nice fish on but popped off before I could get them in the net. Great property, I will definitely be back! ~ Andy Norwood -- October 22nd, 2017
Didn't get on the river until 6:30PM and fished until dark. Caught two very nice trout (12-15"). I had a couple of huge trout on my line, but I didn't land them. One leader broke on one and the other got off just as I was about to net it. The trout were very active on drake flies. I didn't get any bites on caddis. There was a good deal of algae in the water, so I was having to clean my line about every third cast. It had been a hot day, so I fished wherever there was shadows. There are some very large trout in this stretch of the Yampa. ~ Paul Goodrum -- July 24th, 2017
Rough day at the Hogue Ranch. I went to buy a few flies at Steamboat Fly Fishers in the morning and they said things were rough. They were right. It was a really hot day and there was basically no bug activity that I could see. Fishing with a nymph meant checking for moss after every cast. I struck out, but I only gave it three hours in the morning. Things may have improved that evening. I think my timing was bad for this trip. ~ B Fayman -- August 3rd, 2016
This was a difficult day of fishing. The water level was low, about 150 cfs at Steamboat. It was hot and sunny, with absolutely no hatches on the river. I fished from 8am to 6pm and landed only four fish, but three were nice-sized: a rainbow and two browns, the largest about 18 inches. I fished a hopper with soft-hackle pheasant tail dropper most of the day. I only saw one rise, near the bank, and I cast to that spot with my hopper to catch a 16-inch brown. ~ John -- July 25th, 2016
Display All Log Book Entries