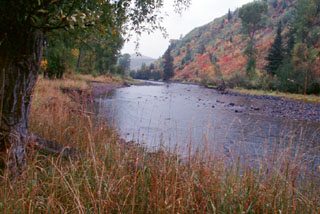 Description: Approximately 2 1/2 miles of 40-foot wide river. This beautiful property has numerous holes, oxbow bends, and runs harboring rainbows, cutbows, and some white fish.
Location: This property is located 51 miles north of Steamboat Springs, near the Wyoming border.
Capacity: Limited to 4 anglers.
To make a reservation call 303-421-6239 or 1-800-524-1814.
Rate Notes:
Rates:
Everyday
Adult


$70.00

Everyday
Adult 1/2 Day


Everyday
Adult Aftn.


$52.50

Everyday
Child


$0.00

Everyday
Youth


$52.50

Everyday
Youth 1/2 Day


Everyday
Youth Aftn.


$39.38
Property Log Book Comments
Was really looking forward to exploring this property. It was a beautiful drive out of Steamboat and a beautiful stream. Lots of moss in the water and the temperature of the water felt pretty warm. Got there at about 10:30am and hit the water. Caught three fish at the first deep hole near the lower end of the property. Later hooked a really nice fish, at least 16", but had the hook thrown as he headed upstream through some structure. From there, things slowed considerably. Some bug activity, but not much. Saw a few small fish rising throughout the day and spooked an enormous rainbow when I went back to the car to take a break. Ended up with a few more small fish in the afternoon, but I couldn't help but think the water temp was keeping them a little sluggish for the day. Would love to try it out again another season. ~ B Fayman -- August 3rd, 2016
CFS around 400-450 , which is still a little higher than optimum for this property, but water clear. Only used black stone fly with split shot. Many rainbows 14-18", although still feeding in deeper troughs. Had not moved into the shallower side holes yet. Only fished lower half of property. As a cautionary note--even though the handwritten sign(saying park on the road) is hard to read now, do not park inside metal gate on lower end. I was forewarned several years ago, but had seen other vehicles in there in the past, and decided to park inside the gate for the first time . Unfortunately, the horses took advantage--badly scratched the hood of my car with their teeth. ~ Dave M. -- June 28th, 2016
Overnight thunderstorms in the high country boosted the flow of the Little Snake from about 90 cfs to 100 cfs and caused the water to be somewhat cloudy as it ran through Sheep Mt. Ranch. We started near the downstream parking area and fished the lower section in the morning. I caught a number of white fish and a few bows in the deeper runs using a rig consisting of a beadhead pheasant tail (#14), and a beadhead prince (#14) and a copper john (#16). After lunch we moved to the upper parking lot near the guest house. The fishing was very productive in a deep run below the cattle watering coral. This run produced many whitefish and a number of bows with the largest measuring about 23." In all I netted 19 whitefish and 6 rainbows. Other members of our group were not quite as successful in getting this number of fish but they did not utilized the same set up. Turned out that the hopper-dropper wash not particularly productive but our streamer guy caught only bows, one as large as 20". ~ SLR -- July 26th, 2014
Good day on the a Little Snake, but water still a little high at approx 450 cfs. Water temp 50 degrees at Noon. Took 12-15 bows with most in the 15-17 inch range-one 20 incher. Most caught on Pats Rubber legs, a couple on black streamer. Fishing went dead at 3 pm even though a strong caddis hatch. Only fished lower half of property. ~ D. Miller -- June 18th, 2014
The flow on the little Sanke River running through the Sheep Mt. Ranch was about 100 cfs. The two of us fished from 9 am to 3 pm. The action was nonstop when fishing the riffles and deeper runs along about 1.5 miles of river from the downstream boundary to up near the ranch house. We caught an untold number of white fish, many frisky rainbows in the 12-14" range, and perhaps a dozen large rainbows over 18." The largest rainbow caught was a hog that measured almost 24." All the fish were caught using a rig consisting of a #12-14 beadhead pheasant tail nymph, #14 BH prince nymph, along with a #18-20 copper john. ~ SLR -- June 30th, 2013
Display All Log Book Entries