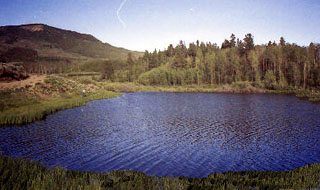 Description: The ranch has four ponds containing rainbows, browns, and Donaldson Steelheads, some of which approach ten pounds. The property has several cabins, and offers many additional recreational opportunities.
Location: The property is located four miles north of Rand, approximately three hours from Denver.
Capacity: Limited to 4 anglers.
To make a reservation call 303-421-6239 or 1-800-524-1814.
Rate Notes:
Rates:
Everyday
Adult


$80.00

Everyday
Adult 1/2 Day


Everyday
Adult Aftn.


$80.00

Everyday
Child


$0.00

Everyday
Youth


$80.00

Everyday
Youth 1/2 Day


Everyday
Youth Aftn.


$80.00
Property Log Book Comments
Beautiful day on this very scenic property... wish I could say the same for the fishing. Tried streamers of several different sizes/colors, dry/dropper rigs of every combination imaginable and never even got 1 strike. We saw plenty of insect activity and there were a couple of big fish feeding sporadically but they weren't interested in what we presented. Look forward to going back sometime for revenge! ~ BH -- June 3rd, 2013
Caught a few, lots of weeds. The host was wonderful to talk with and the property is nice. Fish were big as always. ~ ds8461 -- September 29th, 2011
Wife and I fished mainly Upper Klondike, but also tried Loer some. Very puzzling. We tried everything we could think of and only had about 4 strikes and landed one fish all day. It was a nice rainbow that took an olive bugger. But, hoping this is just a matter of being too early or having an off day. will be interested in seeing how others do in coming weeks. ~ Walt G -- June 13th, 2011
Fished Saturday and Sunday with a friend. On Saturday started at Upper Twin and fished about 2 hours, neither of us getting a single strike. Tried all of the normal Whistling Elk flies, buggers, leaches, hare's ear, princes, streamers, midge nymphs and emergers, nothing. Moved to upper Klondike and my friend caught 2 nice fish on olive buggers with rubber legs. I again did not get a strike. Wind was blowing a gale so we moved to lower Klondike. My friend caught 2 more and I had one strike. Stopped fishing around 6pm, was beat up from the wind. On Sunday, started at Lower Klondike, fished about 3 hours, no strikes for either of us. Moved to upper Klondike, I caught 2 fish, one on a burgandy maribou bugger and one on a green Copper John. My friend caught one fish on the olive bugger. Wind was blowing a gale again. Most of the fish were females with lots of eggs. Saw several fish along the edges especially at Lower Klondike that appreared to be in spawning mode. Caretakers have made some improvements to the cabins and have dug out and removed weeds in all 3 ponds. With the strange weather in Colorado this year we might have been on the ponds a week or so too early. We didn't scare the fish too much so they should be ready to go for the next member. ~ Rich Arnett -- June 6th, 2011
A side benefit of RMAC membership is bumping into old acquaintences on the water. My husband and I were delighted to find that Walt Graul, a former work colleague, and his lovely wife Cindy were among the "other people" at Whislting Elk this weekend. We, too, hooked some of the biggest fish we'll ever catch on the Klondikes. Fuzzy green things seemed to work best -- caddis pupae, olive bugger, etc. And, yes, typical North Park conditions -- you are either fighiting the skeeters or the wind, but patience and tenacity will be rewarded. ~ Kathy -- July 7th, 2010
Display All Log Book Entries