Michigan River and Pond C-51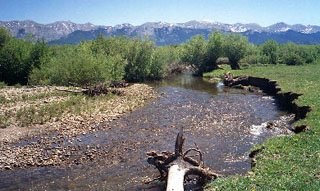 Description: Approximately 1.5 mile of this meadow stream, which averages 20 feet in width and has strong populations of rainbows and browns. Most of the stream has heavy willow cover with cut banks and deep holes. The property also has a 2-acre pond, wich is a nice size for float tubes.
Location: The property is located at the base of Cameron Pass, approximately 2 hours northwest of Denver.
Capacity: Limited to 2 anglers.
To make a reservation call 303-421-6239 or 1-800-524-1814.
Rate Notes:
Rates:
Weekday
Adult


$50.00

Weekday
Adult 1/2 Day


Weekday
Adult Aftn.


$37.50

Weekday
Child


$0.00

Weekday
Youth


$37.50

Weekday
Youth 1/2 Day


Weekday
Youth Aftn.


$28.13

Weekend
Adult


$50.00

Weekend
Adult 1/2 Day


Weekend
Adult Aftn.


$37.50

Weekend
Child


$0.00

Weekend
Youth


$37.50

Weekend
Youth 1/2 Day


Weekend
Youth Aftn.


$28.13
Property Log Book Comments
The flows were ideal throughout the property. Fished very well all day, with the largest fish at 15" (rainbow). I was having the best luck with caddis, although a streamer with a sinking line on the deep pool adjacent to the bridge was also getting good strikes. Lower portions of the property produced the best results. ~ Paul Goodrum -- July 14th, 2017
Got a late start due to an alarm clock issue but had a great day on the stream regardless. Hopper/Dropper combos worked well - beetle / PMX on top, red 2 bit hooker / Prince Nymph down below. Landed 15 fish up to 14 inches... lower stretch provided the better holding water. ~ bh4buffs -- July 11th, 2017
Recent reports speak of fine dry fly action for rainbows and browns in the mid-upper teens, with a foot long brookie in the mix. EH caddis, Amy's Ants, yellow stimulator's and foam hoppers with green copper john droppers were the best patterns overall. There should be caddis present, as well as a few Drakes and Quills, and the early hoppers starting to show up. As always, bead head black wooly buggers dead drifted in the deep pools and cutbanks will yield hard strikes. ~ RMAC staff -- July 13th, 2016
I fished five hours on the 21st of August. Conditions were great and no wind. I caught and released 22 fish ranging from 6 to 20 inches. Best patterns were a rusty stimulator # 16 and a black beetle #14. A few took a ginger quill #16. Great fun all on dry flies. I am always amazed to hook one or two fish in the 4 to 5 lbs. bracket, and I an never expecting a fish that size. ~ Jim Hughes -- August 23rd, 2013
Only had a short time to fish so spent about an hour and half on the stream and caught several browns, mostly small until I hooked a 19" hook jaw Brown much to my surprise. Started with a hopper and kept it on the entire time. I'm sure a dropper would hve been productive but figured if they will take the dry why fight it.The stream is still flowing well for this late in the year so the deeper water and undercut banks were the spots to hit. Fished about a half hour on the pond on the way out and picked up 5 rainbows, all on black wooly buggers. Largest was about 15" but they were all very healthy and good color. With the Aspens in Fall color and catching fish it was a great day! ~ John Chandler -- October 2nd, 2011
Display All Log Book Entries