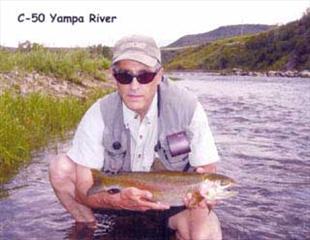 Yampa River C-50: Utterback Ranch
//php woo_post_meta(); ?>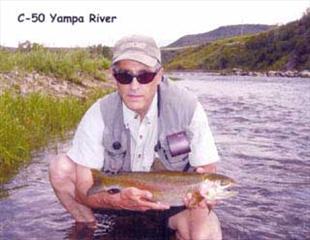 Description: The Utterback Ranch contains one-half mile of the 60-90 foot wide Yampa River. This section of the river is prime water for very large rainbows, browns, and northern pike.
Location: This property is located 11 miles west of Steamboat Springs, near the town of Milner.
Capacity: Limited to 2 anglers or 3 if in one group.
To make a reservation call 303-421-6239 or 1-800-524-1814.
Rate Notes:
Rates:
Everyday
Adult


Everyday
Adult 1/2 Day


$75.00

Everyday
Adult Aftn.


Everyday
Child


Everyday
Youth


Everyday
Youth 1/2 Day


$75.00

Everyday
Youth Aftn.

Property Log Book Comments
Afternoon was mostly sunny with lite breeze. Water conditions were very nice with active fish. Dry flies and Hopper Dropper rigs were used with tricos,pheasant tails,beaded hares ears 18-20 as the take fly mostly. After a slow mid-afternoon things picked up when drifting hares ears to feeding Browns. Fat., healthy Rainbows were active throughout the afternoon with larger Browns hunting later. Don't miss deep nymphing deep pool at irrigation channel-Big Boys there. Small rainbows finished the day at confluence at top of property. ~ John Naill -- September 24th, 2013
Prior to heading to the property, we stopped by Steamboat Fly Fisher to get some advice as they guide the Yampa as well as this property. We picked up a selection of recommended flies and headed for the property where we started fishing at 1pm under blue skies and temperatures in the mid-80s. We quickly noticed that the water was warm, not a good sign. Although I had no way of measuring an exact temperature, my friend Jeff and I agreed that it was well past 65 degrees. We fished relentlessly until 7pm with very little results. We tried various patterns of parachute hoppers and droppers, streamers large and small, and elk hair caddis. With the exception of a large fish that broke off an articulated streamer, it was a disappointing experience overall. The presence of cattle on this property has also contributed to widespread shoreline degradation. While I remain confident that this property can fish well, we neither saw nor caught any large fish. I suspect the high water temperatures were responsible. Maybe this property is better suited for spring or fall fishing. ~ Fabrice -- July 17th, 2013
The flow on this stretch of the Yampa River was low (~60 cfs) for this time of year but large rainbows were holding in and below most of the riffles.The weather was mostly cloudy and cool in the afternoon when we fished (1-4 pm). The three of us spred out and tried different flies but our greatest success was using an egg pattern trailed with a beadhead pheasant tail or prince nymph, although a few fish were hooked using a black zonker and/or woolybugger. All our fish (about a dozen total) were fat bows in the 16-23" range. ~ Steve R -- October 10th, 2012
Fished a sunny morning on C-50. Water temps were in the high 50's. No surface activity to speak of even though there were clouds of tricos all morning. I started throwing a streamer for the first hour with no luck. I then switched to a red san juan worm followed by a trico spinner used as a nymph or drowned spinner. A guide friend of mine provided me with this tip a few years ago and it has caught many fish. It wasn't too long before I hooked my first fish. It also happened to be the only fish I would get to the net, a nice 20" rainbow on the red san juan worm. I would go on to hook another 4 fish on the trico, but couldn't land any of them. Working my way back to the car, I decided to try the streamer again. I hooked a very large fish under the bridge that made a run and broke my 10.5 lb leader. It was a large fish. Had a great day even though I couldn't seal the deal most times. This lease truly does have large fish. ~ Vic Walker -- August 27th, 2012
Probably the most important thing about fishing this property is to double check your equipment to make sure it can handle big fish. On this pleasant Monday afternoon in early October the flows on the Yampa were good (perhaps 200 cfs) and the fish were hungrey. Went with my son-in-law who is an experienced fly fisherman and has guided on the Frying Pan and Roaring Fork. We used primarily a rig having a size 14-16 beadhead pheasant tail with a size 20 baetis nymph trailer. In the first main upstream riffle we caught several good-sized rainbows (18-20"). Then in this riffle my companion hooked a huge rainbow that took him down stream into the slacker water. He fought this fish for perhaps 15 minutes before it tired enough to bring close to the net. But before he could get it into his net--mine wasn't large enough but I could scare the fish upstream closer to his net--the line snapped! This was a great loss for this rainbow was about 26" and 10 lbs and would have been the largest trout my son-in-law ever caught. Afterwards he chalked the loss up to an old and weak 4X tippet explaining that he had not used the 4X in the last 2-3 years and it must have degraded with time. He left for the Green River the next day with new 4X tippet in hand, but greatly disappointed from lossing that trophy bow. Other riffles held fish but none could compare to the one that got away. ~ Steve R -- November 7th, 2011
Display All Log Book Entries