Crystal River at Redstone C-49
//php woo_post_meta(); ?>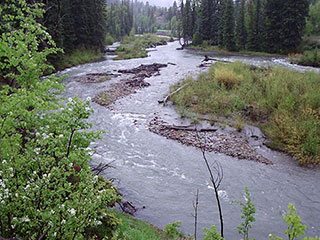 Description: The Club's mile and half of the Crystal lies directly upstream of the historic Red Stone Inn. The river here is 40-60 feet wide, containing brown, brooks, cutthroat, and many rainbows. Situated along the Crysal River and Kline Creek is a home belong to one of the landowner's that is available to Club members. Click on the VRBO link and enter Property ID# 296073 for additional information.
Location: This property is located 18 miles south of Carbondale in Redstone.
Capacity: Limited to 4 anglers.
To make a reservation call 303-421-6239 or 1-800-524-1814.
Rate Notes:
Rates:
Everyday
Adult


$80.00

Everyday
Adult 1/2 Day


Everyday
Adult Aftn.


$60.00

Everyday
Child


Everyday
Youth


$60.00

Everyday
Youth 1/2 Day


Everyday
Youth Aftn.


$45.00
Property Log Book Comments
Brought a new fly fisherman to this property on a cool fall day. 29 degrees when we arrived but warmed up to the upper 50's on a sunny day. I fished a dry dropper/dropper rig. All my fish were caught on the lower dropper which was a purple Prince nymph. My friend nymphed fish with the trailing fly being a BHPT. We landed around 15 Rainbows and had a very fun day. The water is low at 98 CFS. ~ Ken B -- October 12th, 2017
Took a friend who did me a favor fishing on one my favorite fall properties to fish. We arrived around 8am(-3pm), 36 degrees, sunny and about 85 CFS so lower then normal. We only fished the bottom 1/4 mile, another group took the upper 1 3/4 miles above us. My friend had a good 30+ fish day that included Rainbows, Browns, Whitefish and even a Brookie or two. I mostly fished behind him and still did a good 18 fish. As usual, most were caught on Pat's Rubber Legs and a few on rainbow warriors and hairsears. Never had a bad day on this property. ~ George Schmidt -- September 17th, 2016
EPIC Day. 30+ fish day – lost count around noon at 24 fish, 15+ 18" or greater. I got tired of taking pictures… On the water at 8:00am, cool around 40 degrees and started catching fish on the second cast. Worked from the bridge up to the Castle, about half the fish on again (last year) Pat's Rubber Legs, the rest distributed on Pheasant Tails and JuJu's. On the way back decided to throw streamers small white with a second green/black chaser. Fish caught was a combination of Rainbows, RM White Fish, a few Cutthroats and a few Browns. I ended the day around 4pm. ~ George Schmidt -- October 11th, 2015
Heaven must be like this. I checked in at the Redstone Inn, got my badge and had breakfast there. I starting fishing about 9:00. The water was too fast to wade (about 215 cfs) at the bridge so I walked up the road a short distance and bush-wacked to the rivers edge. Starting with a Double Standard and a BWO nymph, I caught a 12" bow then a 17" (+/-) in the very first run. After the sun rose higher I found fish in nearly every bend, run and riffle. Most were taken with a Copper John with an egg dropper. Any color egg worked as did SJ worms. I had to leave shortly after noon to attend a wedding but, in covering about 1/3 of the river, I caught 30+ bows, none under 10" and a few over 20". What a great day! ~ Larry G -- August 4th, 2015
If no fish were caught here, the scenery is worth getting on the water. However, that was not the case.Slightly stained water from run off had things so visibility was lower. A couple of hours late morning with beadhead pheasant tails with some flash netted good size Rainbows 15-19" from a hole before water turned to chocolate. Short day here. ~ john Naill -- September 24th, 2013
Display All Log Book Entries