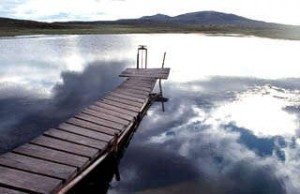 Description: Three-acre lake with naturally reproducing populations of wild trophy rainbows and brookies that average 17 to 19 inches and have become fat on freshwater shrimp. Ideal for belly boating or a small boat. Wading and bank fishing difficult.
Location: The pond is located 6.4 miles northeast of Kremmling, just over 2 hours from Denver.
Capacity: Limited to 4 anglers.
To make a reservation call 303-421-6239 or 1-800-524-1814.
Rate Notes:
Rates:
Weekday
Adult


$75.00

Weekday
Adult 1/2 Day


Weekday
Adult Aftn.


NA

Weekday
Child


NP

Weekday
Youth


NA

Weekday
Youth 1/2 Day


Weekday
Youth Aftn.


NA

Weekend
Adult


$75.00

Weekend
Adult 1/2 Day


Weekend
Adult Aftn.


NA

Weekend
Child


NP

Weekend
Youth


NA

Weekend
Youth 1/2 Day


Weekend
Youth Aftn.


NA
Property Log Book Comments
Three of us arrived at 8:00 AM in the morning. The road was dry enough to drive in comfortably. Two of us used the boat and George used his canoe. Jimmy had told us a 5lb brook trout was caught the week before. By 10:00 am the wind had picked up - steady 20 mph, but we managed two Brook trout over 20" and approximately 5lb apiece. These fish were fat and just unbelievably beautiful. One male (kyked jaw) and one hen. One caught on a small #12 wooly bugger, the other on a size 10 4x white slump buster. George managed to catch a couple more Bows on the wooly bugger in the 5lb range before the wind and rain chased us off the Pond. We will be back again later this summer! ~ JoeBo -- June 9th, 2014
JoeBo (member) and I did a half-day Sunday, the rains drove us out and if you now that lake, when a drop hits you, you bolt as fast as you can. We have slowly dialed this pond in; know the lies and techniques that work for these fish. Today was about large Brookies (~18"-22" and fat), we caught several before that Noon rain drop. We also caught a number of large Rainbows (~18-20" and also fat. We used several different Leach patterns and techniques today due to the high winds (~25-30 mph). The fish fought hard, jumped, etc. So now my largest Rainbow and Brookie ever are both from this pond. ~ George Schmidt -- June 9th, 2014
Joe Bobinis and his friend and I thought we'd try a spring fling on the pig pond… Not.  First we arrived right after a snow storm, it was 22 degrees but sunny, felt like 40 degrees (You gents who've been there after a bit of moisture know what's coming…) We clean the boat, launch my canoe. We used droppers (mysis, midges, nymphs, etc.) and several types of streamers (buggers, tube streamers, etc.) Nothing in the morning, we thought it was too cold, they stayed deep. Then after lunch the action picked up, black and olive streamers. We had a number of large (6 most over 20") fish on the line, all fought like I've never seen them at the pond, but none to the hand. Then it was time to leave… You know the rest. I'll post a picture of Joe's Hummer (thank god for locking hubs!) to the Facebook page. I think going forward, we'll stick to lazy days of summer - Tight Lines. ~ George Schmidt -- May 10th, 2013
I got to the pond at around 1100 the road down to the pond is in great shape very easy for my truck to handle. I saw some risers throughout the day but they had no interest in my hopper. I fished a black slump buster most of the day had several tugs but only landed one, I say landed, but this fish would not fit in my net at all, I tried to pick her up just to big. When I finally did this rainbow must have been 27" and at least 15 pounds. When I went to release her she dropped eggs all over. I got her revived and back safe and happy so you guys can go after her again. There are a lot of weeds in the pond so fish the channels in between the weeds. Great place lots of big fish!! ~ Chef -- August 29th, 2012
Sunny, blue sky, and no wind. Fished from 10 AM to 2:30 PM. Three takes, all on RS2s dropped beneath a hopper and beetle. Lost the first two, landed the third -- a 32-inch rainbow, the largest trout I've caught outside of New Zealand. Thick and powerful, nearly too large for the net. Took a size 20 gray RS2 behind a beetle. Fish were sipping only in the middle of the lake. Steady midge hatch for most of the day. Zero interest in the dries and nothing on the streamers. RS2 is the magic fly this time of year. Sometimes a one-fish day is a good day after all. ~ Ted Simendinger -- October 2nd, 2011
Display All Log Book Entries