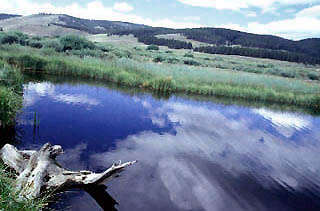 Description: The Hurd Creek Ranch offers four good miles of fishing on Ranch Creek, and two trophy ponds with large, cultivated rainbows. Ranch Creek is fed by 3 smaller streams that join on the property and at 40 feet across, it has good volume with riffles, runs, and cutbanks. Accommodations include log cabins and a lodge with all the amenities.
Location: The ranch is located east of Hwy. 40 between Tabernash and Fraser, approximately 1 1/2 hours from Denver.
Capacity: Limited to 3 anglers.
To make a reservation call 303-421-6239 or 1-800-524-1814.
Rate Notes:
Rates:
Everyday
Adult


$60.00

Everyday
Adult 1/2 Day


Everyday
Adult Aftn.


$45.00

Everyday
Child


$10.00

Everyday
Youth


$45.00

Everyday
Youth 1/2 Day


Everyday
Youth Aftn.


$33.75
Property Log Book Comments
Another great fall day at Ranch Creek! Second visit this season. Things started a little slow in the morning (35 degrees when we started), but once the temp went up, both myself and my brother had very productive days. Streamflow was reported at 24 qfs, and was quite clear. Did not cover much of the water -- really just from the cliffs to the upstream boundary. The 2 set-ups that worked best were a dry/dropper and a streamer. Parachute Adams, PMX, some other #16 dry I don't know the name of on top; #16 purple Prince on the bottom was great. I fished the beaver pond at the upstream border with a tan Scudzilla streamer, and caught at least a dozen there alone. My brother caught about 20 in just one stretch between the cliffs and parking area. In contrast to our last visit in July, most of what we landed were Rainbows, with a couple Brookies each, and a couple Browns. Also bigger -- most of what I landed on the streamer were rainbows 10-12+ inches, with a fat 17 inch and a 16 inch. My brother landed several fat RB's with hooked jaws. Mighty windy mid-afternoon, but did not interfere with very active fishing. Lovely day. ~ Jeff D -- October 14th, 2017
On July 21, 2017, before the massive cloud burst at 3 p.m. with striking lightning, the two of us caught about 17+ mostly browns in the 10-13" range starting at the far portion of the creek all the way down the hill from the ponds and parking lot. Saw no large trout. Water tea colored. We could see the bottom down 3-4 feet but the water had a brown cast to it. The plan was to fish this middle section first and work our way up to the upper section. Top water was the preferred fly of the day starting with Amy's Aunt, then parachute Adams, then various other bugs but no hoppers. The trout stopped striking anything at about 2 p.m. There was no major hatch in our area. ~ Gene -- July 23rd, 2017
Fished from about 930 to 6 with my brother and son. Probably our most productive day out of several visits to this wonderful property. Fish here are not at all selective. First hour for me was a little hit and miss while I dinked around with several fly combinations. Pretty much everything resulted in takes, including Stimulator, Royal Wulff, red Copper John, BH Hairs Ear, even an olive Woolly Bugger. About 1030 a hatch of small mayflies started and I switched to a #16 Parachute Adams. Next couple hours was quite active. My son stayed with nymphs all morning and reported one stretch where he caught fish on 5 consecutive casts; BH Pheasant Tail and red Copper John. My brother had most success on an orange Stimulator and Royal Wulff. In the afternoon I fished with nymphs the entire time with steady action. My brother had great success in the afternoon with Parachute Adams, and my son stuck with nymphs. I fished both the top end and the lower end, with a little in the middle. Most fish were browns, with a few brookies and one rainbow; most in the 8-10 inch range, though each of us netted at least one at 17+, and a few around 15. And yes, we each caught our share of fingerlings. Great day. ~ Jeff D -- July 16th, 2017
Flows were at a nice level ~17 cfs. Fish were small browns and brookies on dries. Mainly parachute adams. Spooky fish but a good longer cast worked well. Fished downstream from upper parking in the AM & upstream from lower parking in the PM. Lower water was a bit better but the walk is tougher with more marsh and scattered beaver holes. We did not fish the ponds. ~ Mike Narkewicz -- July 10th, 2017
Extremely windy, over the banks flow, clear water. Tough day and hard to find a drift in very swift water. I like the high flows here, but this was too much. Jungle fishing for sure. You may want to wait till the flows drop some. ~ Robert Schatz -- June 14th, 2017
Display All Log Book Entries