C-42 Colorado River
//php woo_post_meta(); ?>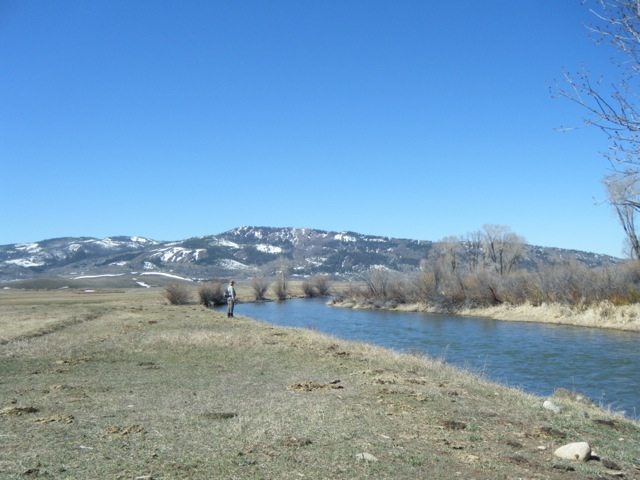 Description: Beautiful mile plus stretch of the Colorado river downstream of Willow creek reservoir and lake Granby. Good population of browns and rainbows in the 8-18 inch range. Wide stretch of river made up of mostly gravel and large boulder bottom.The river is rich in aquatic life with caddis, sow bugs, midges, and stoneflies.
Location: Located 1.4 miles north of the intersection of hwy. 34 and hwy. 40 along hwy. 34. Property is on the west side of the road.
Capacity: 3 anglers or 2 groups of 2
To make a reservation call 303-421-6239 or 1-800-524-1814.
Rate Notes:
Rates:
Everyday
Adult


115.00

Everyday
Adult 1/2 Day


Everyday
Adult Aftn.


115.00

Everyday
Child


0.00

Everyday
Youth


115.00

Everyday
Youth 1/2 Day


Everyday
Youth Aftn.


115.00

Weekday
Adult


115.00

Weekday
Adult 1/2 Day


Weekday
Adult Aftn.


115.00

Weekday
Child


0.00

Weekday
Youth


115.00

Weekday
Youth 1/2 Day


Weekday
Youth Aftn.


115.00

Weekend
Adult


115.00

Weekend
Adult 1/2 Day


Weekend
Adult Aftn.


115.00

Weekend
Child


0.00

Weekend
Youth


115.00

Weekend
Youth 1/2 Day


Weekend
Youth Aftn.


115.00
Property Log Book Comments
Of all the days we have fished this property in the last few years, this was the slowest. Water was low, but at a decent level and cold. Sun was out, but that has not mattered before much. Fish were not in the riffles, instead seemed to be only in the deep runs. BHPT was the best bet. Diana netted 12 browns, I had 8 with two large (18) rainbows to spice up the day. Happily, these fish like to jump. Only two on dries all day... ~ Steve & Diana Fitzgerald -- August 23rd, 2017
Solid Half Day on the Colorado. We had ideal weather for fishing, overcast, misty and about 70 degrees. The flows were around 80 cfs. Myself and two others hit the river around 9:00 am and started catching browns right away. I fished the main hole by the picnic table and threw a PMD (purple body) with an yellow body EH caddis off the back. The first one of the day nailed the PMD on the second cast. I moved down the river to the long flat section before the last riffles and switched to a nymph rig, nothing. So I went back to my PMD/EH Caddis setup and started nailing them. I got a few small ones and then a really nice 15 incher slammed the EH Caddis. We then moved to the upper section and I stuck with my same rig. I threw to some feeding fish, got 12 incher right away. I then moved up to some faster water and threw to the bank, BOOM, best fish of the day. 16-17 inch brown hit the EH Caddis. We each got 4-5 fish in 3 hours, cool property, the cows tend to go for a swim in some of the holes... ~ Brad Rettig -- August 8th, 2016
A 16" Brown was the catch of the day, on an Amy Ant. The rest were caught on Barr's PMD merger dropper. Lots of surface activity. Many different hatches coming off, with Caddis looking to be the majority, then Yellow Sallies, and PMDs. Water temp was 56f at 1 p.m. and the flow was 84 cfs. Ambient temp was 88 degrees at about high Noon. Pretty ideal conditions. Rainbows were included in the day's catch. Slippery stones made for difficult walking, even with a wading staff. I'm going to try to go back when the river is about 60 cfs—more dry rocks to walk on. The owners are very gracious and have even set up a portapoddy next to the barn behind the parking lot, and in the corral down by the center for the lease. ~ Gene -- July 23rd, 2016
A great day. Despite it being hot, sunny, we fished dry/dropper rigs to rising trout from our arrival at 10:30 am until about an hour before our departure at 5:30. Lots of browns, some rainbows, and most out in the riffles actively feeding. There were multiple hatches (caddis, yellow sallies, green drakes, some stoneflies, etc) but this wasn't hard: Caddis (or drake) on top, bhpt on the bottom = catch a lot of fish. We each had around two dozen, although I am certain that I had one more than Diana did....and she would say the opposite. Get there, water is perfect. ~ Steve and Diana Fitzgerald -- July 12th, 2016
Very tough day. Until 6/12 the releases from Lake Granby (80 cfs) and Willow Creek Reservoir (12 cfs) were perfect. But they increased Willow's releases by 100 cfs on the 12th and, on the 13th when we were there, they increased flows another 50 cfs per hour! It wasn't safe to wade. By mid day fishing was basically impossible. ~ Larry G. -- June 18th, 2016
Display All Log Book Entries