Upper Williams Fork River C-40
//php woo_post_meta(); ?>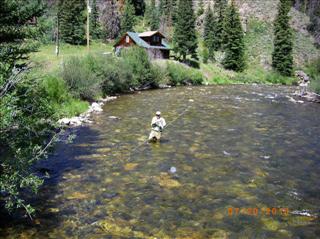 Description: Aspen Canyon Ranch has a mile and a quarter of the upper Williams Fork, a freestone mountain stream that offers fun fishing for three species of trout in a lovely valley surrounded by 12,000-foot peaks. Approximately 40 feet in width with swift currents in the upper section leading to a canyon below. Fishing continues for another two miles on an isolated section of BLM land. Fish range from 6 to 16 inches. Lodging is available on the ranch.
Location: The ranch can be accessed from the Ute Pass/Henderson Mill road off Highway 9 past Kremmling or from Parshall off Highway 40 on Road 3 (the Williams Fork Reservoir road).
Capacity: 3 anglers or two groups of 2
To make a reservation call 303-421-6239 or 1-800-524-1814.
Rate Notes: To make a cabin reservation call 1-800-321-1357
Rates:
Everyday
Adult


$60.00

Everyday
Adult 1/2 Day


$45.00

Everyday
Adult Aftn.


Everyday
Child


$0.00

Everyday
Youth


$45.00

Everyday
Youth 1/2 Day


$33.75

Everyday
Youth Aftn.

Property Log Book Comments
Started fishing at 8 am. First time on this property. The water seemed high and fishing was tough. Hard wading, no real lies or holes evident. Caught two 8" browns on BH Prince Nymphs in stretch from cabins downstream to bridge. Three other members fishing the upstream section so called it quits at noon. ~ Walt Jaakkola -- June 10th, 2012
Three of us hit this property on Sept. 19. River was low and very clear and not a cloud in the sky. From the parking area my 2 partners went downstream and I went up. When we met up at lunch our reports matched up exactly - we all worked the water hard and only came up with very small fish. I caught some 4" - 8" browns on a midge dropper and the other guys caught a mix of trout species of roughly the same size. We found it really tough to fish at this low flow. I found a deep hole about a quarter mile upstream from the parking area where the fish should have been holed up, and put everything in my box through there and got nothing. We bagged it after lunch and hit the Upper Colorado and did better up there. A rare disappointment on an RMAC property but maybe it fishes better at a higher flow with some cloud cover. ~ mike g. -- September 21st, 2010
I parked at the bridge and walked downstream for a mile, scrambled down a bank at one point. Not an easy walk in, but really fun, good for younger legs. It's a gorgeous river going into the canyon, the fish there are pushovers for Royal Wulff's, Caddis pupae and Copper Johns. I caught about 15 fish, mainly rainbows, with a few browns and brookies as well. They ranged from small to 14 inches. A great escape for a day, a beautiful place. ~ Bob -- August 29th, 2010
Beautiful property, the cabins look great, but the water was high and clear (150+ cfs) although now declining as the rains have let up. Trout batted 1000. I scored only six: Small Brookies and a RB and Brown. After trying many dry/dropper combinations, took most on #14 Madam X and #16 gold ribbed hare's ear. The next time I go, I'll walk down into the canyon below the bridge maybe a half mile or more to where there is the most structure and fish back upstream to the bridge. At a lower flow rate the fish will be more concentrated. I can't wait to read the report from others to learn better ways to fish this property. Friendly ranch manager. Restroom is just inside the door at the lodge. Great addition to our RMAC leases. ~ Gene -- August 16th, 2010