Saguache Creek B-33
//php woo_post_meta(); ?>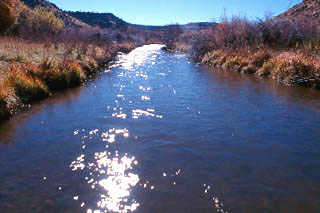 Description: Approximately 3 miles of 20-foot-wide stream with cutbanks, deeper runs, and shallow riffles. Brook trout, browns, and cutthroats averaging 14 inches are common.
Location: The property is located approximately 15 miles West of Saguache in Southern Colorado.
Capacity: Limited to 2 anglers.
To make a reservation call 303-421-6239 or 1-800-524-1814.
Rate Notes:
Rates:
Everyday
Adult


$45.00

Everyday
Adult 1/2 Day


$33.50

Everyday
Adult Aftn.


$33.50

Everyday
Child


$0.00

Everyday
Youth


$33.50

Everyday
Youth 1/2 Day


$25.31

Everyday
Youth Aftn.


$25.31
Property Log Book Comments
I didn't get to this property until 10:30 AM, and only had 4hrs of fishing. The holes in this creek are awesome, and I am sure hold some big Browns. Dead drifting streamers did not work, and nothing worked for an hour. I was getting worried. I re-rigged with a nymph rig, and weight for the deeper holes. A Psycho Prince for some reason did the trick, drifted through the undercut banks was successful. Lots of snags, but worth it. Caught so many fish I lost count, but at least 20+. The largest was maybe 16 inches, but I know there are some hogs on this property. When I go Elk hunting in this area this year I will be back. I'm almost sure I can catch a 5 pound Brown in this stream. ~ R. Mathieu -- September 11th, 2016
Beautiful little meandering stream. Because of the meanders and oxbows, it is much longer than it looks, with plenty of pools and riffles. It's comming on fall and the Fish are getting lazy. They were mostly in the tail waters, feeding near the surface. First two fish were on the surface eating spent blue winged olives (around 10:30 AM). But then, the action changed to Pale Morning Duns which were dipping into the water for the rest of the day until 6:00 PM. A light Cahill, size 14, was deadly - took ( and released) 14 Browns, 7 to 14 inches. It was cloudy, calm and spit rain from time to time. Hoopers would work, but the fish seemed to pull them down before bitting and I couldn't get hang of hooking them with a hopper. Besides, it just wasn't a hopper kind of day. ~ Tim J -- September 5th, 2012
Up again at the crack of dawn and the wind is starting already. A few more willows at this site but decided to stick with streamers. No luck and decided to use a single nymph and do some high sticking. Tied on a Buckskin and the little brookies went wild. Like it was the first food of the year! Water clarity was better at this end since there was no cattle being grazed in the area. WIND!!!! Will it never stop??? Had to stop - just can't fight this much wind and the willows at the same time. Final count for the 3 days -- 3 Rainbows, 2 Browns and a whole mess of little Brooks. Time to go home. ~ MG52 -- May 11th, 2010
Stream was slightly murky but flow was good at about 80 cfs. It was hot and calm, lots of skeeters. Upper end of the property was very swampy, hard to negotiate. Caught 6 or 7 browns to 14 inches on small wooly buggers and hopper/droppers. ~ John -- July 21st, 2009
Superb Fishing. There was a front moving in and the browns really started feeding. Caught a large number of fish, primarily browns up to 15 inches. Also a couple of rainbows that were of good size. Best flies were rubber legged hoppers, s16 parachute BWO's and Olive Wooly Buggers (took the largest fish). The flow was excellent. ~ Lyn Lampert -- September 3rd, 2004
Display All Log Book Entries