Saguache Creek B-32
//php woo_post_meta(); ?>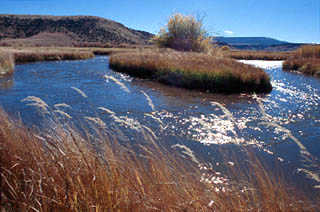 Description: Approximately 8 miles of stream with shallow riffles and cutbanks flowing through open pastures. Tract has produced 18-inch browns, as well as cutthroat and brookies. Camping is permitted.
Location: The property is located approximately 11 miles West of Saguache in Southern Colorado.
Capacity: Limited to 4 anglers.
To make a reservation call 303-421-6239 or 1-800-524-1814.
Rate Notes:
Rates:
Everyday
Adult


$45.00

Everyday
Adult 1/2 Day


$33.50

Everyday
Adult Aftn.


$33.50

Everyday
Child


$0.00

Everyday
Youth


$33.50

Everyday
Youth 1/2 Day


$25.31

Everyday
Youth Aftn.


$25.31
Property Log Book Comments
Have wanted to fish this valley for two decades and finally got down to do it. Beautiful high ranching valley with great views all around and a deserted feel to the properties. Endless bend pools and riffles winding through hay meadows. Fortunately past skeeter season, the place seems like it could be nasty with bugs in mid summer. Water was a bit off color, not sure why since no recent rain - maybe normal for this river? Not a but hatched all day and with cloudless skies, fish were tight against the banks wherever the water held some depth and shade. Would occasionally hit a dry but too close to the bank to try dry/dropper so eventually changed to a small streamer. Fished with two buddies and averaged 20 fish each. Mostly 8-12" browns, rare rainbows, and about a half dozen nice browns in the 16-17" range. Great day all around and only fished half the lease! ~ ken -- August 29th, 2017
My brother and I made our 3rd visit to the Saguache Creek properties, the previous 2 having been spectacular, with gorgeous days and incredible fishing. This time around we got the spectacular days, but poor fishing. The entire stretch of the creek (all 3 segments) was muddy and impossible to see more than about 6 inches down. Rumor has it that it was the result of a big storm up on the pass, but no way for us to verify that. As a result the typically good fishing was super disappointing. Where we'd normally caught 20+ a day each, we didn't manage that number together over the course of two very full days. We even took the Club's advice and tried an early morning visit to catch the morning BWO hatch - to no avail, except for the lovely sunrise. We tried everything - nymphs of numerous varieties, hoppers, PMX, BWO, even streamers. Fish were few and far between - browns in the 12-14" range, a few rainbows similarly sized and even a cutbow. And for the first time, we actually encountered other RMAC members on the water. ~ Peter D -- September 16th, 2015
The weather was terribly hot but the fish didn't mind. During two half days of fishing, I released more than 20 trout, 10 to 16 inches long. They were all browns. This was the first time in 7 visits to the creek that I didn't catch any rainbows or cutthroats. The browns were surface feeding and took hoppers, elkhair caddis, and stimulators. In the early morning, I caught some on wooly bugger streamers. The water was a bit murky but at a good level. ~ John -- July 24th, 2014
Fished the afternoon, sunny and warm. Water was brown and clear on the edges, but still caught fish very close along the banks from parking area upstream. Size 12 Amy's Ant and olive Parachute hopper on top with BH prince or pheasant tail dropper - all caught fish with 15 inch rainbow the biggest. Wind picked up late and went to streamer - black slump buster and caught 3 more rainbows. ~ Bruce Kautz -- August 18th, 2012
The creek was about the right level, but the water was a bit murky. The fish held even tighter to the banks than usual, so I had trouble fishing nymphs. I caught a couple on pheasanttails and a couple more on pale morning dun dries when there was a light hatch. I took far more fish on small wooly buggers with rubber legs. I slapped the streamers right next to the bank and caught a total of about 15 fish, 8 to 16 inches long. There was one rainbow, one cutthroat, and the rest were browns. ~ John -- June 13th, 2012
Display All Log Book Entries