Saguache Creek B-31
//php woo_post_meta(); ?>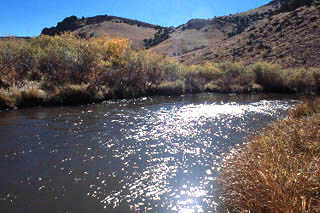 Description: Approximately 2 miles of 30-foot-wide stream with shallow riffles and runs with pools and undercuts. Mixed habitat with rainbows, browns, and brook trout.
Location: The property is located approximately 9 miles West of Saguache in Southern Colorado.
Capacity: Limited to 3 anglers, or 2 groups of 2 each.
To make a reservation call 303-421-6239 or 1-800-524-1814.
Rate Notes:
Rates:
Everyday
Adult


$45.00

Everyday
Adult 1/2 Day


$33.50

Everyday
Adult Aftn.


$33.50

Everyday
Child


$0.00

Everyday
Youth


$33.50

Everyday
Youth 1/2 Day


Everyday
Youth Aftn.


$25.31
Property Log Book Comments
tried for an hour to fish B-31 but either runoff is way late down here or there was a major storm up high yesterday. River was high, fast and virtually no visibility. No fish today! ( Jimmy's note: This is a prime example of the true freestone stream that Saguache Creek is, any inclimate weather on the south slope of Cochetopa Pass runs through this tract. Sorry your day was uneventful. ) ~ ken cohen -- July 18th, 2015
Arrived around noon at Saguache and dumped things at the Motel and headed for the water. Beautiful winding stream in the middle of an active cattle pasture. Started with some exploring with a stimulator, golden stone and bead head prince. The water was off color with visibility around 12-18 inches and deep. About as high as it can get without flooding and a flow of around 80 cfs. Fished the afternoon but between the willows and the wind (steady at 15 and gusting to 30) it wore me down without success around 4:30. See day 2 at B-32. ~ MG52 -- May 11th, 2010
Very pleasant fishing day using Hopper, dropper. Fished all three beats with similarly good results. Some nice sized browns and rainbows in this stream. Water slightly milky colored but still fished fine. ~ Mike Beatty -- September 18th, 2006