East River B-26
//php woo_post_meta(); ?>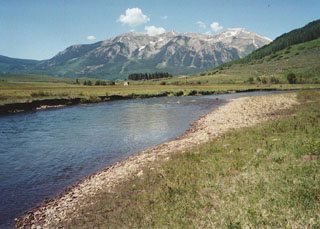 Description: The Cold Springs Ranch, near Crested Butte, has 1 1/2 miles of the 40-foot wide East River. Few anglers have ever fished this section of the river, and it contains good populations of rainbows to 16 inches and browns to 18 inches. Available on odd days only.
Location: The ranch is located approximately four miles east of the resort town of Crested Butte.
Capacity: Limited to 3 anglers or 2 groups of 2 each.
To make a reservation call 303-421-6239 or 1-800-524-1814.
Rate Notes:
Rates:
Everyday
Adult


$100.00

Everyday
Adult 1/2 Day


Everyday
Adult Aftn.


$75.00

Everyday
Child


$0.00

Everyday
Youth


$75.00

Everyday
Youth 1/2 Day


Everyday
Youth Aftn.


$56.25
Property Log Book Comments
Fished in the afternoon. There were thunderstorms around so I did not go too far from the lower end and the car. I caught fish on Chubby Chernobyls, Bead Head Pheasant Tails, and large black streamers. No hoppers around, no mayflies or caddis. Fish were in the riffles and pools. Caught some nice 12" -14" fish, lots of dinks, no big fish. Beautiful spot!! ~ Robert Hesse -- September 12th, 2017
Beautiful cloudless day on this magnificent property. Finally met the owner after fishing here for 20 years. Flows were great and fished with two buddies. No hatches all day but consistent fish willing to take droppers and the occasional swat at the dry. Most action on small beadheads, PT's CJ's with caddis and small hoppers on top. Caught about 20 fish each, from 4" up to 15" in the usual spots, riffles and bend pools. Views to die for, always a good day on the East ~ ken -- August 29th, 2017
Didn't really have the time I would have liked to have on this section. However, in 4hrs I caught 8 fish. Nothing over 16 inches. Dead drifting streamers through the holes is what worked for me. Green or Black wooly did the trick that day. I will return to that section. I am sure there are hogs in that creek/river. ~ Rod M. -- September 11th, 2016
Great news that B26 is back on line. Have fished this property about 8 times over the years and definitely one of my favorites for dry/dropper rigs. Nothing on top in the morning but about a half dozen nice fish on streamers on the lower bend pools. Switched to #14 foam body caddis with #18-20 dark green copper john's about 11 AM. Rest of the day caught mix of 8-14" brown's, one nice 15" cutthroat and rainbows from 12-20" (the latter courtesy of the club having been deposited the day before). The nicest scenery of any club property and fun to fish as well! ~ ken cohen -- August 6th, 2015
If there is a more beautiful place on earth, I'd be surprised !! Scenery here is stunning. Fished from 9:00 to 4:00. Rained off and on until about 2:00. Started nymphing and the fish were hitting my strike indicator. Switched to an orange Stimulator and BH Pheasant tail dropper and fished this rig the rest of the day. Caught about 15 fish including a 10" and a 14" rainbow. Both were fat and healthy. Rest were browns in the 4-8 inch range and one cutthroat. I had numerous strikes on the Stimulator but missed at least twice as many as I caught. Best fishing was the upstream half of the property. There was more water and deeper holes. Many of the browns and strikes were also in the shallow riffles. ~ Walt Jaakkola -- August 20th, 2010
Display All Log Book Entries