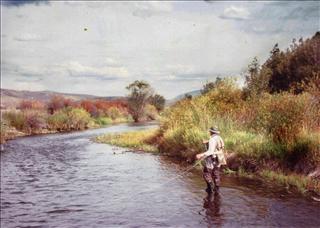 Description: Choice brown trout habitat for over a century, Tomichi Creek, under the caring minestrations of Butch Clark, is 2 miles of some of the best riparian habitat of the entire watershed. Managed under conservation values, the Clark Ranch has a thriving population of brown and rainbow trout that range in size from 8 to 18 inches with the occasional monster. Tomichi Creek is a 30- to 40-foot wide stream with easy wading, bankside willows and perfect for 9-foot, 4- or 5-weight rods. An amazing addition to RMAC properties.
Location: Located along Highway 50 the property has three separate parking areas between 6.1 and 7.2 miles east of Gunnison.
Capacity: 4 anglers
To make a reservation call 303-421-6239 or 1-800-524-1814.
Rate Notes:
Rates:
Everyday
Adult


$70.00

Everyday
Adult 1/2 Day


$52.50

Everyday
Adult Aftn.


Everyday
Child


NC

Everyday
Youth


$52.50

Everyday
Youth 1/2 Day


$39.38

Everyday
Youth Aftn.

Property Log Book Comments
Second time on the Tomichi. Looks like a much smaller water when you are driving by, but actually fishes as a larger river. Flows were 225 cfs (Gunnison station) and you woudn't want to fish at a much higher flow as wading would be very difficult. Water was a little off color and the fish were very active. Very easy river to read with alternating bend pools and long stretches of willows. When the current is against the willows, the fish were easily taken there and the bend pools all fished well. There was a good BWO hatch most of the day but only a few rises to dries. Should be a great hopper river in a couple of weeks but no hoppers around just yet. Caught lots of fish on a double nymph rig of red san juan worm trailed by a #14 dark green copper john. Also caught lots of fish on streamers, usually just letting it hang in the current at the bend pools. All browns, most in the 12-16" range with a few larger fish. Dense mosquitos and some road noise are the only drawbacks to this very nice river. ~ ken cohen -- August 9th, 2015
B24 – Tomichi Creek – Arrived on property about 8:00am. I figure one more time and I'll start to dial in this property. Mosquito's don't like my A- blood, but if you're not that recommend Deet 100 (Alaska strength). Started at lower end. Flows were very high, could only wade across in a few spots. Recommendations were Streamers and Nymph kits w/Pats and Coppers. Above the falls, on the long slow run I used streamers (black and green/black), caught 3 12" browns and 3 fat 12" rainbows. Once on the riffles and bends and, all the way to the house I switched back and forth between streamers and the nymph kits. No surface activity. Caught another 10 10"-13" browns. Ended around 5pm. Had to work hard for the fish, lots of willows and limited access to the water – still beats working all day. ~ George Schmidt -- August 1st, 2015
I fished Tomici with a friend on July 19, 2015. Arrived to find the water high and a little off color. Tried dry/dropper for about an hour but the fish were not looking up. Next worked through a variety of double nymph rigs with minimal success. Eventually hit on an unusual combo, black #10 wooly bugger up front dead drifted with a red san juan worm trailing. Using this rig we each released about 15 fish. With the exception of a single rainbow, they were all health browns, 8-16". The current was strong and walking upstream is a workout, occasionally requiring a wading staff due to the high water. Mosquitos were abundant but tolerable. Great day overall. ~ ken cohen -- July 20th, 2015
Two of us fished Tomichi for first time, started at 9 and fished until 3 PM when major storm moved into Gunnison Valley. Flows were high and water pretty murky from lots of recent rain. Tried just about everything in the fly book but only trout landed were on red San Juans. Fish wouldn't take pink/brown worms of the flashy sparkle ones, only red with beadhead. Fished from lower boundary up to house in am, had lunch then drove to upstream parking area and walked back down to red house to fish up. Great creek to fish with long runs and many deep pools. All caught were healthy browns up to 17 inches and one feisty rainbow. ~ mwooster -- August 12th, 2013
Three of us fished this property for the first time under supreme Fall weather conditions for everything, except perhaps fishing. Flow as about 30 cfs leaving much of creek very shallow. Ed and I landed eight between us on prince nymphs, while Barry from Minnesota had a field day landing 22 on his BH prince nymph. Average size was probably less than 6" but a few decent browns were landed. Very mossy bottom. Streamers, other nymphs and dries were unproductive. We worked hard, but had a blast! The fish showed a distinct preference for flies recklessely tied on worn tippet material, museum-quality tarnished brass beads and red flashabou ribbing dangling exactly one hook shank length from the abodmen:( An excellent property with a ton of beautiful water! Thanks for the opportunity! ~ S. Knopp -- October 7th, 2012
Display All Log Book Entries