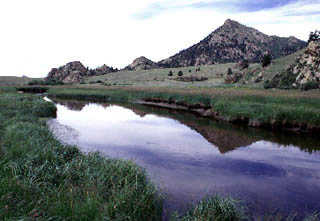 Description: An outstanding 4-mile section beginning just below the outlet of Tarryall Reservoir. The property offers rocky pocket water to a winding meadow stream. Throughout are browns and rainbows in the 10 to 14 inch size, and some even larger. A good dryfly stream with intense summer hatches and consistent clear flows.
Location: The ranch is located along County Road 77, 18 miles southeast of Hwy. 285 at Jefferson and 22 miles northwest of the CR 77 juncture with Hwy. 24.
Capacity: Limited to 3 anglers, or 2 groups of 2 each.
To make a reservation call 303-421-6239 or 1-800-524-1814.
Rate Notes:
Rates:
Everyday
Adult


$85.00

Everyday
Adult 1/2 Day


Everyday
Adult Aftn.


$63.75

Everyday
Child


$0.00

Everyday
Youth


$63.75

Everyday
Youth 1/2 Day


Everyday
Youth Aftn.


$48.75
Property Log Book Comments
Unseasonably warm weather and a free afternoon were reason enough to give this property one more go before the long winter sets in. In addition to clear water and strong gusts of wind, I also had to deal with extremely cold water, which is not entirely a surprise considering elevation, how late in the season we are, and the fact that Tarryall Reservoir directly above this property was already 50% covered with a thick layer of ice. As a result, fish were somewhat lethargic all afternoon but I still managed to land 7, all on streamers. As an added bonus I was able to observe a rather large beaver at work in the lower section of the property. ~ Fabrice -- November 28th, 2017
Most of the creek was frozen with only a central channel. The first 1/2 mile or so from the dam was well open. Despite the cold and ice, it was a good day. Rainbow warrior and poison tung worked with nymphing in drop pools. 15 fish or so in 4 hours, 3 more than 17-18 inch cutbows. ~ Mike Narkewicz -- November 19th, 2017
Another excellent day on this property. In spite of strong winds and low water levels (17cfs), the fishing was outstanding, so much so that I only fished about a third of the property and never made it to the lower section. I suspect the strong South Park wind actually worked in my favor as the constant ripples on the water made it harder for fish to see me approaching in otherwise crystal clear water. A black streamer produced strikes throughout the afternoon, with most fish in the14 to 16 inches, and one nice rainbow above 20. I also spotted at least 3 large pike comfortably over 25 inches each. Overall I was very pleased with how well this property fished this late in the season. ~ Fabrice -- November 16th, 2017
Fished with a guest. Fished upper section. Mainly fenchie and red copper johns. Flows at 20 cfs, clear and fish spooky. ~ Mike Narkewicz -- October 29th, 2017
It was a miracle day, but not the way anyone would expect. I fished the lower section after spending an eternity searching for a dropped hearing aid in the weeds but finding nothing. Caught quite a few little ones. There were way more strikes than I caught. Finally settled down to about 8 browns and rainbows over 12". Water temp was 56 at 11 a.m. Little to no wind. Storm front predicted and moved in all day. Left about 5 p.m. It could be the last day of summer, that is, about 65 to 70 degrees f. The trout bit on Amy's Ant and Parachute Adams sizes 14 - 18. Looking forward to next week, a new place and new set of trout. Oh yes, the miracle. Later, at home, I turned my waders upside down and out fell my hearing aid. It made my day. Who says God doesn't look out for flyfishers. ~ Gene -- September 26th, 2017
Display All Log Book Entries