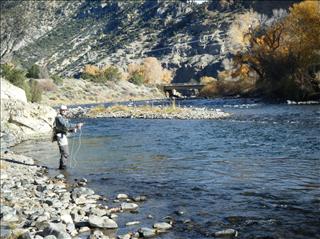 Description: The Club shares this outstanding 1.5-mile lease with the Arkansas River Fly Shop in Salida, and members are asked to check into the shop prior to fishing to receive their beat assignment and a detailed map. Club members have access to two beats on the south (highway) side of the river to midstream. This prime trout water is filled with classic riffles, pocketwater and deep pools. containing wild brown trout with fish ranging from10 to 18 inches. Hybrid Hofer rainbows have been introduced to the river and can run from 14 to 18 inches. The Arkansas is known for incredible hatches starting with blue-winged olives, then the ""blizzard"" of caddis followed by stoneflies, PMDs and terrestrials. Members will enjoy a long wade season.
Location: The Club's two beats are located approximately seven miles below Salida between Wellsville and Swissvale.
Capacity: 2 anglers per beat
To make a reservation call 303-421-6239 or 1-800-524-1814.
Rate Notes:
Rates:
Everyday
Adult


$80.00

Everyday
Adult 1/2 Day


$60.00

Everyday
Adult Aftn.


Everyday
Child


NC

Everyday
Youth


$60.00

Everyday
Youth 1/2 Day


$45.00

Everyday
Youth Aftn.

Property Log Book Comments
1st trip to A6, nice stretch of water with plenty of variety. Temps in 30s with winds up to 25 mph made for a challenging day. 3 of us landed 10 fish between 10-16 inches, combination of browns & rainbows. All were hooked on Copper Johns trailed below big Golden Stone. Good day on the stream despite the ice in the guides. ~ BH -- February 21st, 2014
Hard day's work by the two of us for 19 trout, 3 rainbows and the rest browns. Went into backing during the runs of two 14" browns. These trout are healthy and strong. Prince nymphs proved to be the most reliable pattern but caught many on black caddis, tan body grasshopper, Kingery stone fly, and tiny beatis nymph. . ~ Gene -- July 13th, 2013
Challenging but very fun day on A-6, first time fishing this excellent lease. Had 4 of us and access to both beats thanks to Greg and Co at Ark Anglers (awesome shop and great people btw!). We fished the upstream beat from 11-3 with lots of healthy browns and bows taking BH Prince Nymphs but more on large yellow BH stonefly nymphs. We got a few strikes on top using crystal stimis but all fish to net were on nymphs. About 25 fish for us on upstream beat, things really slowed/shut down in afternoon on lower beat. Fish were very close to bank given 900 cfs flows. Flows will keep coming down and fishing should be excellent here over next few weeks. Great stretch with highest concentration of trout per mile on Ark according to Greg at Ark Anglers. ~ MWooster -- June 23rd, 2013
We had a good day on the river. We caught both Browns and Rainbows. The Rainbows we very acrobatic and went aerial several times. The Browns kept their heads down and pulled hard. We were fishing a variety of flies but were most successful with black stone fly patterns trailed by Prince Nymphs. We also took fish on caddis nymphs and blue wing emergers. We caught all of our fish on the lower section. However, there were several runs on the upper section that looked fishy and would probably be productive at the right time of the day or when fish were looking up. Another note, you will lose bugs. Rocks, sticks, and other assorted hazards below the surface will take more than their fair share of rigs when the water is at this level. Again, this is pre-caddis and lower water levels. This should improve as the season moves forward. ~ Travis -- April 29th, 2013
We fished property A-6 south of Salida on Saturday, April 13. The water is fairly low for the Arkansas but running very clear. Starting with a red copper john attractor and size 20 olive midge patterns (Bob Dye's perriwinke and Charlie Craven's jujubee) we landed a number of 12-14 inch browns and the occasional rainbow. It was very windy, but just after noon there was a blue wing olive hatch and we started seeing some steady risers in the tail-outs of the larger pools. Fish were netted on both size 20 griffith's gnats and parachute blue wing olives. The hatch didn't last a long time, but the fish were very eager. Toward the end of the day we switched back to nymphs and midges, landing the largest brown of the day on a prince nymph. This is a very pleasant property that is highly recommended for a day of spring fishing. ~ JA -- April 17th, 2013
Display All Log Book Entries