Arkansas River A-3 (Gold Camp)
//php woo_post_meta(); ?>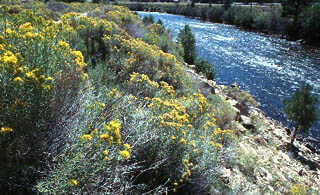 Description: Over one mile of year-round river consisting of long runs, riffles, and pocket water. Browns and rainbows in excess of 18 inches have been reported. Lightly rafted with an occasional kayak.
Location: The property is located 20 miles south of Leadville and 12.5 miles north of Buena Vista on the east side of Hwy. 24
Capacity: Limited to 3 anglers.
To make a reservation call 303-421-6239 or 1-800-524-1814.
Rate Notes:
Rates:
Everyday
Adult


$90.00

Everyday
Adult 1/2 Day


Everyday
Adult Aftn.


$67.50

Everyday
Child


NP

Everyday
Youth


$67.50

Everyday
Youth 1/2 Day


Everyday
Youth Aftn.


NP
Property Log Book Comments
Beautiful fall day on the Ark, 65 degrees, cloudless skies, low clear water. Uh oh, not the recipe for a 40 fish day. That being said, the fish could be coaxed up. Nothing on the top and most of the fish in the riffles. Good mix of rainbows and browns taking hares ears, #20 red zebra midge, and RS2's. Couldn't get a hit on a streamer. Fish were scattered throughout the property. About a 10 fish day and well worth it for the views and weather. ~ Ken -- October 16th, 2017
We hit the water around 9am and put a 17in rainbow in the net on a white sparkle minnow. Started in the middle section above the foot bridge then worked up to the train bridge. 4-5 small browns and rainbows on small hoppers. Tons of stoneflies all over the rocks but no love on the Pat's Rubber Leg today. Great day on the water, had some mountain goats and osprey in the mix as well. ~ Andy Norwood -- August 19th, 2017
The fish Gods were smiling on A-3 today. Arrived at the river to find the flows at 1,100 cfs the top end of the range to fish this property. Only about half the available water was fishable but that part fished very well. Golden stone flies hatched throughout the day although the fish did not seem keyed to take them off the top. Caught lots of fish in the morning on a nymph rig with a size 14 Prince and a size 16 Hare's Ear. After lunch, finally got tired of getting hit in the face by air borne stone flies and switched to a #10 rubber leg yellow stimulator. Spent the rest of the afternoon catching fish on the surface. All in all a great day! ~ kencohen -- July 1st, 2017
5-13-17, Solid day on A-3, we showed up around 8:45 am and the river was way off color and moving pretty quick (close to, if not above, 600 cfs). I was pretty worried because of the water color, but we headed to the lower boundary and started throwing streamers (double thin-mints) we got a few nice ones right away. We continued upstream throwing streamers and chartreuse caddis pupa and kept bringing them in. After lunch we headed to the upstream boundary, big hole at the railroad bridge. We threw the same rigs and got another 8 or so. They repeatedly hit any color pats and beadheads. All in all we caught 20 or so fish ranging from 6" to 17', mostly browns with an occasional bow. There was a lot of bug activity but the water was moving to quick for any dry fly action. Great stretch, must be a blast when the water is better clarity. ~ Brad Rettig -- May 15th, 2017
Was glad I opted to wet wade even though it's already cooler up there...just not that much water that you are even getting into. I was surprised nymphing wasn't more successful, but if I had to do it over again, I'd probably fish deeper in the couple runs. One challenge is the constantly changing depths....so an adjustable indicator would be better than hopper dropper. Saw a couple caddis still coming off, and a decent amount of small mayflies and midges in the afternoon. I did have some good luck with a very small BWO on 6X in a couple of the very slow seams. Beautiful up there now! ~ Tommy Lorden -- September 17th, 2016
Display All Log Book Entries