Fourmile Creek A-2
//php woo_post_meta(); ?>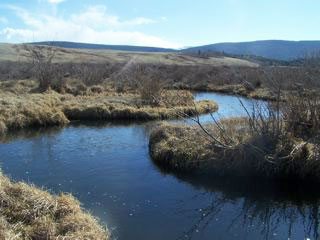 Description: Located 2.5 miles southwest of Fairplay, CO, this section of Fourmile Creek contains two stream miles of a creek dotted with beaver ponds. It offers fast action for a large population of wild browns and an occasional rainbow.
Location: The property is located 1.3 miles south of Fairplay and 2.1 miles west of the junction of Hwy. 285 and CR 18.
Capacity: Limited to 3 anglers, or four if all in one group.
To make a reservation call 303-421-6239 or 1-800-524-1814.
Rate Notes:
Rates:
Everyday
Adult


$60.00

Everyday
Adult 1/2 Day


Everyday
Adult Aftn.


$45.00

Everyday
Child


$0.00

Everyday
Youth


$45.00

Everyday
Youth 1/2 Day


Everyday
Youth Aftn.


$33.75
Property Log Book Comments
Many small fish < 10", none caught larger. Used hoppers after trying a variety of common CO dries and nymphs. Many hoppers were in grass near the stream Day was sunny and clear, which may have made fishing difficult. Beaver ponds appear to have been blown out during prior run-off. Even with only tiny fish, it was a fun day. ~ Rick Ferrell -- August 5th, 2017
Nice morning and tough afternoon with rain, sleet and wind at 2pm. fished from 8:30 to 2. 5-6 really nice fat bows 16-17" - many smaller browns to 12". flows low even after rain. All beaver dams blown out I guess from runoff. This is a very enjoyable stream with great views and a variety of water Larger fish on tan hopper on top and green copper john underneath. equal on both. Almost all colors of CJ brought browns-- Editors note: Other members talk of new beaver dams on the lower end of the property. Thanks for the nice report. :) ~ Bill J -- August 26th, 2016
Great day on Fourmile. My 13-yr old daughter and I landed some very nice fish in the beaver ponds, all on dries - fish were (surprisingly!) in the 14-20" range. Moved on to the creek and had continued success with dries - fish in the 9-12" range. Beautiful property. Water was a bit high, but very fishable. Fish holding in soft water and mostly deep in the undercut banks. ~ Keith Tucket -- June 30th, 2016
Hazy, warm and breezy conditions on Four Mile. Property changed a lot since last year as a lot of the upper beaver ponds were blown out over the spring, but there are still numerous deep pools and great holding water. Flows were moderate and the water was gin clear. We started on the lower end and soon found that black & brown hoppers were the dry fly of the day, no surprise as they were everywhere in the tall grass. Started out catching numerous browns in the 8-12 inch range, and after lunch we hit the upper half of the property and started hooking up with some bigger rainbows. Between us we landed 5 over 18 inches with the prize of the day a fat 21 inch bow, and we also broke off at least that many. Toward the end of the day we found a deep hole with at least 10 large fish stacked up and feeding. Had luck there with wooly buggers although the takes were very subtle. We caught fish in shallow riffles, undercut bank, deep pools and the fish were eager all day. At one point a large bow hit a fly so hard it actually jumped out of the stream and on to the bank before rolling back into the creek and breaking off. Awesome day on Four Mile! ~ VRIG -- August 22nd, 2015
Fun Day. A guest and I on the water around 9:00am, light sporadic hatch all day. We walked to the bottom of property and worked our way up. There are no beaver dams or beavers any longer in the area, focused on plunge pools and undercut banks. Lots and lots of little browns, each easily over 15 apiece of the little gents on the day. My guest found a nice pool and first connected into one of Jimmy's stockers (Rainbows), then what I would call the fish of the day – nice 16"-17" Cutthroat with nice colors. We proceeded to focus on the Rainbows the rest of the day. Using Hopper dropper setups on the way up and around 4pm using Streamers on the way down with a 70/30 split between hopper & droppers. The final fish was in that same pool where we took another nice Rainbow. ~ George Schmidt -- July 19th, 2015
Display All Log Book Entries