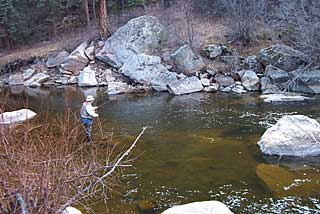 Big Thompson River A-19
//php woo_post_meta(); ?>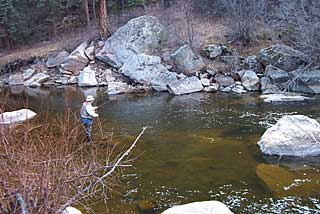 Description: The Bein Mountain Ranch contains about ½ mile of the 30-40 foot wide Big Thompson River. Good numbers of wild rainbows, as well as cutbows and browns thrive in this river, most in the 10-12 inch range and some exceeding 18 inches.
Location: This property is located between Estes Park and Drake, approximately 1 1/2 hours northwest of Denver.
Capacity: Limited to 2 anglers, or 3 if in one group.
To make a reservation call 303-421-6239 or 1-800-524-1814.
Rate Notes:
Rates:
Everyday
Adult


$60.00

Everyday
Adult 1/2 Day


Everyday
Adult Aftn.


$45.00

Everyday
Child


0.00

Everyday
Youth


$45.00

Everyday
Youth 1/2 Day


Everyday
Youth Aftn.


$33.75
Property Log Book Comments
Best day of rainbow fishing this year. All but one caught on a brassie (no bead head), with the other on an emerger. Saw only one brown chase the emerger, but who cares when two of your rainbows are over 21". Top half of the property always fishes well, from the end of the second center island up to the hole at the end of the property. I am getting to know one of the 21's rather well, as one of its pectoral fins is clipped. Last time it took a pink streamer, this time it was the brassie. Apparently it is well trained and paid to strike your offerings. It seems to share the hole with a large brown that is more selective. Plenty of smaller, wild rainbows that are fun on a 3wt or lower. Definitely recommend the 5-6wt when chasing the larger fish in the deep pools. 5x flouro was plenty light. Used a bit of drop shot rig from nymph to emerger up the line, high sticking the deeper runs. It's dark and cool in the canyon, generally shade all day. How the fish see something so small in deep dark water up against a bank is beyond me. ~ Marco -- November 13th, 2017
Although it has been a dry fall, there is plenty of water on this property holding a number of fish. Today, several rainbows on 18 midge nymphs. I fished with a float, lead and two 18 midge nymphs in all of the usual places above and below the bridge. Fish came from all depths over one foot. On the last drift of the day, I collected a brown and a rainbow on the same line, one on each nymph. The deep quiet pools are holding fish over 20", as I had one well into the 20's chase my streamer more than once in the upstream pool. Initially I hooked a sucker in the pool and the large brown followed it around while it was on my line. I put a streamer on and it went for it a couple times, just coming up a bit short. One of my best days on the water this year. This is a classic example of why you don't listen to guides. I hired a guide earlier this year, and on the way back from a trip on the Colorado, I asked him how the Big Thompson was fishing. He said it was still blown out and had not recovered from the flood. He said I should hire him to go fish the Poudre. It's disappointing to hear this from a professional, who more likely than not, knew the Big Thompson held plenty of fish, and I wouldn't need his "expertise" to fish it. I hope he is the minority. This stream has plenty of fish, and the property in particular is still fishing exceptionally well, better than the last time I fished it prior to the flood. ~ Marcopolo -- October 30th, 2016
Cloudy and light rain.. River was high from recent rains and very difficult to wade. Lower end too rapid to fish. Couple of soft pockets yielded 2 fish, one on nymph, one on streamer. Flows need to come way down to make this worthwhile. ~ Mike Narkewicz -- July 3rd, 2016
Nice day, water flowing about 125 cfs. up from 10 days ago, but still clear. I caught a dozen fish 6 to 14 inches on prince and copper john nymphs in the morning, then several including a 16-incher at the lower end in the afternoon. No fish were rising, but I persuaded a couple to strike on a big stimulator dry. Most were rainbows, just two browns. ~ John -- May 31st, 2016
A beautiful piece of water and it's loaded with fish... but they were out to lunch. Of course, shame on me for showing up at 9:30 instead of 6:00 AM. Fished the whole property, managed to catch a couple plopping black deer hair beetles into the slow spots on the far bank. Hooked but lost a really big trout at the upper pool on an olive Trash Can Streamer. There were no hatches and no risers. Just an off day. Was vastly entertained by hummingbirds chasing midges! Next time I'm coming in the PM and fishing till dark. ~ Robert Hesse -- August 4th, 2015
Display All Log Book Entries