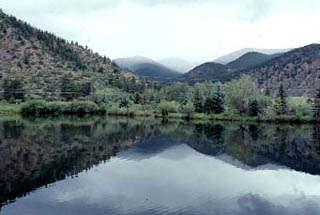 Description: This beautiful 5-acre lake is perfect for belly boating for rainbows, browns, and brook trout. It has been reported that some of the browns are very large. The lake ranges from 15 feet deep to nice, shallow flats for feeding trout.
Location: The property is located approximately 40 minutes west of Denver, just south of the town of Empire.
Capacity: Limited to 3 anglers.
To make a reservation call 303-421-6239 or 1-800-524-1814.
Rate Notes:
Rates:
Weekday
Adult


$65.00

Weekday
Adult 1/2 Day


Weekday
Adult Aftn.


$48.75

Weekday
Child


$20.00

Weekday
Youth


$48.75

Weekday
Youth 1/2 Day


Weekday
Youth Aftn.


$36.56

Weekend
Adult


$65.00

Weekend
Adult 1/2 Day


Weekend
Adult Aftn.


$48.75

Weekend
Child


$20.00

Weekend
Youth


$48.75

Weekend
Youth 1/2 Day


Weekend
Youth Aftn.


$36.56
Property Log Book Comments
My maiden voyage on my new float tube. Arrived about 8am, nice, sunny w/clouds. Had to work hard for the 15 fish caught this day. Started at the outlet end of horseshoe, slow one fish on Streamer. Backed up to walk bridge and casted double dry (Amy's and Cadis) to other side, caught another 7 fish over 3 hours. Ore'd over to other side to hit the long deep run, caught two on streamers and another 5 on double dry's again (stimy and cadis). Went back to the outlet for the end of day and caught two more on double dry's. Lots of looks all day, few bites. Browns, Rainbows and two very nice Cuts. ~ George Schmidt -- June 4th, 2017
I took 2 guests to Empire on a beautiful fall day. We tried a variety of flies and had looks but no takes until just before noon. Then we hit on the combination of a caddis dry with a tiny (#22) dark colored dropper. It seemed like the cruising trout were initially interested in the dropper and would eat it. But sometimes, at the last minute, they would opt for the larger dry fly. We each had half a dozen or so nice size rainbows landed in addition to a few that shook free. Wind and weather cut the day short but the quality fishing, along with the beautiful setting, fall colors and easy company, made for a memorable day. ~ Larry G. -- September 24th, 2016
Another good day at Empire. My guest caught a large, picture-worthy bow on the first cast. It was slower the rest of the day but we ended with double digits. My guest scored with a large hare's ear he found on the ground, worms, leeches and eggs. I did well with an olive Amy's Ant trailing dark-colored midge and BWO droppers. ~ Larry G. -- June 18th, 2016
Perfect weather, great company, poor fishing. The day was bright and clear and the wind was very slight. A few fish were sipping, many more were undoubtedly cruising below, but they just wouldn't eat our flies. Leeches, wooley buggers, dries, nymphs, nada. One or two all morning despite many fly changes. Around 11:30, a traditionally slow period, they started hitting everything and we all hooked up 5 or 6 in the next hour. Then it slowed to a crawl again. Strange day - but a great day nonetheless. ~ Larry G -- June 8th, 2016
Another great day on this beautiful lake. Midges all morning, dries all afternoon. I started at the outlet and picked off several using an unweighted #20 black chironomid (similar to a zebra). Moving from spot to spot I tried many different flies but kept returning to the black midge; it was the hot ticket all morning. Things slowed down in the afternoon so I switched to dries and had one-and-done success with a hopper, stimulator and parachute Adams. But once I tried a PMX I found the answer. The last bow landed was one I'll never forget. He literally jumped over another bow to take my fly. A perfect ending to a perfect day. ~ Larry G. -- June 4th, 2016
Display All Log Book Entries