Clear Creek A-17
//php woo_post_meta(); ?>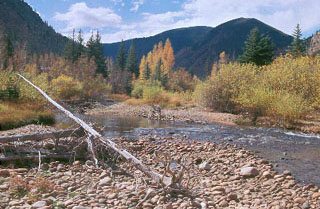 Description: The Clear Creek Ranch contains 1/2 mile of the 30 foot wide Clear Creek, which can usually be fished year-round. It has been well managed by the owners and contains good populations of rainbows and browns averaging 10-14 inches, with a few rainbows approaching 20 inches.
Location: The property is located about 2 miles east of Georgetown, just 45 minutes from Denver.
Capacity: Limited to 2 anglers. Up to 4 anglers permitted if in one group.
To make a reservation call 303-421-6239 or 1-800-524-1814.
Rate Notes:
Rates:
Everyday
Adult


$60.00

Everyday
Adult 1/2 Day


Everyday
Adult Aftn.


$45.00

Everyday
Child


$0.00

Everyday
Youth


$45.00

Everyday
Youth 1/2 Day


Everyday
Youth Aftn.


$33.75
Property Log Book Comments
Slow day of fishing, only saw a handful of fish and hooked one that was buried in a log jam. Flows were low and the only places for the fish to hold for the most part were deep in the willow thickets in the bends of the creek. Amazing place, the owner is friendly and helpful. Once the flows come up the fishing will improve, I think I was a little ahead of things this high up with the cold nights and low flows closer to the headwaters. Looking forward to going back in better conditions. ~ Mike Mangino -- March 20th, 2017
Water level was perfect, still wadable and clear. My advice is simple: nymph or dry/dropper with a bhpt and hope it clouds up mid day. I had a couple dozen on the pheasant tail between 10-2, but on a crystal clear day nary a fish from 3-5:30. Even when going deep with weight. So get there early despite the elevation. Very friendly and helpful property owners. ~ Steve Fitzgerald -- May 26th, 2016
Beautiful day, crystal clear water. Using a dry (adams) and a dropper. all fish were caught on the dropper, but a couple strikes on the adams. ~ Robert Schatz -- March 30th, 2016
Fished from 10-2. Low flows, spooky fish, all small. 3 to net on small midges. Wind came up in the afternoon to >20 mph making good drifts on 3 weight very difficult. Water temperature probably needs to increase to improve the fishing. There are several holes with lots of willows on the bottom from beaver activity that are good for fish protection but make nymphing difficult ~ Mike Narkewicz -- February 28th, 2016
We arrived at the property at 8am and talked with the owner to get an update on fishing, the river had been fishing well with some dry fly action but primarily nymphs. The day was hot without any cloud cover and no wind. We started on #14 grasshoppers and did get a few rises and saw a few rising fish. We switched to a #16 stimulator and were able to hook a few fish on top. We also caught fish on a #16 bead head prince and a dropper setup is ideal if you want to maximize your opportunities. Things slowed during mid-day but after lunch we had a nice blue wing olive hatch and many more rising fish. We landed a very nice 16" rainbow on the #20 BWO and fished the rest of the day with it, with fish piled up in the deeper holes we didn't have to move much but did have to throw it many times before getting just the right drift. Great experience, will fish it again soon. ~ Ed Shappell -- September 14th, 2015
Display All Log Book Entries