Big Thompson, North Fork at Drake A-16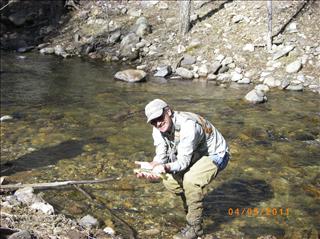 Description: This mile of the North Fork of the Big Thompson is a spritely-moving 10- to 15- foot wide stream that runs among a mix of alders, pines and meadows on the Mountain Home Ranch. Rocky pools and runs provide excellent trout habitat for a population of wild browns and rainbows averaging 7 to 14 inches. A 2-acre pond also affords excellent fishing for larger rainbows and browns up to 22 inches.
Location: The ranch, owned by the Chenoweth family, is located in the shadow of Rocky Mountain National Park near Drake (Hwy. 34-Big Thompson Canyon). At Drake you take CR 43 approximately 2 miles to the RMAC gate.
Capacity: 2 anglers or more if in one group
To make a reservation call 303-421-6239 or 1-800-524-1814.
Rate Notes:
Rates:
Everyday
Adult


$60.00

Everyday
Adult 1/2 Day


$45.00

Everyday
Adult Aftn.


$45.00

Everyday
Child


NC

Everyday
Youth


$45.00

Everyday
Youth 1/2 Day


$33.75

Everyday
Youth Aftn.


$33.75
Property Log Book Comments
Arrived around 8 in the morning and headed straight to the North Fork. The flows where really low and fishing was difficult. I ended up catching 2 smaller browns and missed 1 larger fish. Headed to the pond around 10:00 and had a blast. Caught 9+ rainbows ranging from 15 – 19 inches on beetles, wooly buggers, and salmon egg patterns. All in all is was a good day of fishing. ~ Chris Wilper -- August 23rd, 2013
Great day on A-16! Fished the pond in the morning. Action was a little slow at first, but got four nice rainbows to the net before lunch and lost three. One fish was about 18", the others were 14", but all were good fighters. Headed to the north fork for a few hours after lunch and the flow was absolutely perfect. Caught a brown on my first cast, and thereafter got a fish or a strike at nearly every pool and run using a foam body caddis and size 18 bhpt. Lost count after 20 or so in the first hour. ~ Nelson W. -- July 5th, 2013
We started the day on the river, but that only lasted about an hour. The flow was too high and the little fishable water produced nothing. We moved over to the lake early and had good luck with the rainbows and browns. My partner and I caught several fish during the day. The fish were not overly spooky so the fishing was enjoyable and forgiving. The owners, their horses and their dogs were very friendly. I would recommend this place to beginners and experienced fisherman. The stream looks like it will be a lot of fun this summer when the run-off quits. ~ HW -- June 1st, 2013
Nice warm day but extremely windy, gusts up to 40 mph. Sunny skies without any cloud cover. Didn't spend much time on the creek as flows were up around 90 cfs. Had some success at the pond landing several rainbows up to 19". Believe it or not, the grasshoppers were already abundant at the parking area and brought the most fish to the net. As previously reported, droppers with green color were also successful. The largest fish was caught and landed with a streamer (muddler minnow). ~ BH -- May 31st, 2013
Warm day with intermittent clouds throughout the day. Met the owner when I arrived - very nice guy. Fished the pond for a couple of hours using a dry dropper rig...Adams and a midge. Caught several fish before heading up to to the stream. Stream running at around 90cfs and the fish are holding to the sides and behind rocks. Caught a few on my 3 weight and then went back over to the pond to finish the day. Nice way to spend a Friday. ~ A Slaughter -- May 24th, 2013
Display All Log Book Entries