A-14 Lower Michigan Creek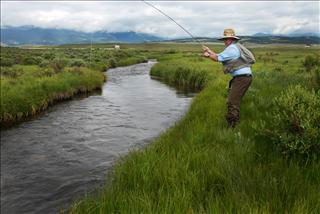 Lower Michigan Creek A-14
//php woo_post_meta(); ?>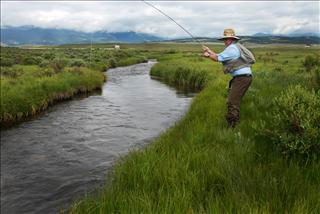 Description: This scenic ranch in South Park affords two miles of pure meadow stream fishing for browns, rainbows and brook trout. Meandering through fields of grass and native cinquefoil, the creek averages 10 to 15 feet in width. It is easy to wade with a stream bottom of gravel and sand although some bend pools are as deep as six feet.
Location: Located a little more than an hour's drive from southwest Denver, this section of Michigan Creek is approximately 2.2 miles from Jefferson off of Litmer Road.
Capacity: 2 anglers or 3 if all in one group.
To make a reservation call 303-421-6239 or 1-800-524-1814.
Rate Notes:
Rates:
Everyday
Adult


$80.00

Everyday
Adult 1/2 Day


$60.00

Everyday
Adult Aftn.


Everyday
Child


$0.00

Everyday
Youth


$60.00

Everyday
Youth 1/2 Day


$45.00

Everyday
Youth Aftn.

Property Log Book Comments
The wind was 30 knots with gusts so I let it do all my casting for me. Producers, for small browns only, were parachute Adams #14, black prince #16. Water temp was 45 and ambient temp when arrived about 60, p to 70 degrees by 5 p.m. and the wind died at 4 p.m.. The North wind had a bite it picked up blowing across all the snow-capped peaks. Otherwise, it was a good day to be out. ~ Gene -- October 9th, 2017
Picture perfect fall day on this property, with temperatures in the 50s and river running at about 12cfs. I started fishing shortly after noon till about 5pm, which was just enough time for me to fish this property top to bottom with a streamer and fish half way back up with a hopper & dropper. Both techniques produced good results on this scenic property. I caught about 20 fish on the afternoon, most in the 8 to 15 inch range, with a few larger specimen giving my streamer a chase. I cannot remember last time I fished a stream where 100% of the fish caught were browns. All in all a grand day out! ~ Fabrice -- October 5th, 2017
Hit mid day on hot blue bird day, so it was tough. Good spot to bring my little kids from a safety and openness standpoint. Caddis were coming off around noon, and little browns were banging them! We fooled one with a hopper along a deep bank too. Note if you bring kids: the porta potty indicated in guide book appears to be old news...we couldn't find it. Flows were fine, although there is defintiely some skinny water to pass over (or have the kids play in!) :) ~ TommyL -- July 27th, 2016
Sunny day and plenty of surface activity. We caught nothing on nymph or worm patterns. However, the fish went crazy for dries, especially Elk Hair Caddis and tan Comparaduns. Between the two of us we probably had 30 to 40 on and most landed. On the other hand, only 3 were over 4 inches or so in length. The lunkers were about 6", 8" and 10". After so many smallies, the 10 incher felt like a barracuda. My guest was a little disappointed at first but soon got into the spirit of the place. End result, we both had a lot of fun. ~ Larry G. -- July 23rd, 2016
My son and I fished this property last Friday 7/31. We started fishing around 8:00 AM. The stream was in perfect shape with plenty of water and just a little murk. The water was cold and the action slow until around 11:00 when it began to warm up. We fished downstream to the fence and back up again. From 11am till 1pm we caught about 20 fish, mostly browns. We were fishing dry/beadhead combos. Almost all the fish were right on the banks. After lunch we fished the upper end. It clouded up and the fish were more active - caught bigger fish but no monsters. The best flies were a #14 beadhead hares ear and a parachute adams #12. We missed as many fish as we caught - any fish that was rising would come up for a well presented fly. We saw lots of oviposting caddis, mayfly spinners and Yellow Sallies, but no real hatch activity. It was a beautiful day, still lots of wildflowers around. Next time we'll go later in the day, walk to the bottom and fish back up. It is a lovely spot to fish and lots of fun. Bob Hesse #439,610 ~ Robert Hesse -- August 1st, 2015
Display All Log Book Entries