DD RANCH PREMIER BASS LAKE A-13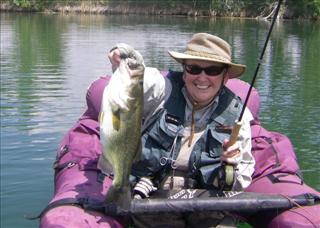 Description: Largemouth bass to 6 pounds but averaging 3- to 4-pounds and pan fish galore populate this 12-foot deep, 7-acre lake. Flyfishers accustomed to trout fishing but wanting to break into warmwater fishing will find the DD Ranch a lovely and unintimidating place to do so. Bring your float tube and your 8-weight rod for great fun.
Location: Located near Fort Lupton, this property is an easy drive from Denver, Greeley or Loveland. From Denver drive north on Hwy. 85. The property is off country roads 28 and 23.
Capacity: 4 anglers or more if all in one group.
To make a reservation call 303-421-6239 or 1-800-524-1814.
Rate Notes:
Rates:
Everyday
Adult


$60.00

Everyday
Adult 1/2 Day


Everyday
Adult Aftn.


$45.00

Everyday
Child


$0.00

Everyday
Youth


$45.00

Everyday
Youth 1/2 Day


Everyday
Youth Aftn.


$33.75
Property Log Book Comments
We arrived at the pond around 7:30 with overcast skies and temps in the 60s. The bluegill where biting like they haven't eaten in weeks. I lost count of the number of bluegill caught after the first hour. Later that day I hooked a small bass and while retrieving the fish a monster bass inhaled the fish and I ended up landing a 5-6 pound bass on a 5w rod. It was an epic day! I landing 3 4-6 lb bass probably lost 6 others, I can't put into words the fun of catching a 5 lb bass on a fly rod and letting him pull me around the lake in a kayak. We used orange elk hair caddis, buggers, and steamers. ~ Chris Wilper -- May 24th, 2013
We were on the water by 8 am and fished from pontoon boats until 4pm. The water temps were in the 60's and it was stained. The weather was hot, windy and clear, a glorious day in my book!! We started with the bluegills to get a feel for the day which kept us busy for while. We used Elk Hair Caddis, Yellow Humpies and Beatles which the Gills would smash!! The bass were moving however they were not really interested in the morning offerings. The afternoon we started to have some bass action. The smaller fish where hitting top water flies and black woolly buggers. We had one of the larger fish hit a Dalhberg Diver casted at the bank but we missed the strike. We worked all types of presentations which included a number of poppers, streamers and wolly buggers. Great Day on A-13!! Don ~ dlanderson -- May 7th, 2012
Fished with a friend and got on the water about 8am and fished from belly boats until 1pm. Weather was hot and clear, no wind. Caught as many bluegills as you would want but the only bass we caught were 4-6 inches long. Saw several large bass near the shoreline and it looks like they are on beds. Only got one of the larger ones to hit a streamer because the streamer sunk right onto the bed and the fish struck it protecting the bed. Had the fish on for 10 seconds or so before it spit the hook. Tried all sorts of poppers, streamers, buggers, clousers, tarantulas, etc for the larger bass but they wouldn't eat. Fished some more off the bank in the afternoon but again only caught bluegills. Watched several large bass just ignore everything we put in front of them. Ended up leaving around 6pm. ~ Rich Arnett -- July 4th, 2011
For my first trip with RMAC, I chose DD Ranch for Saturday June 18th - a bit of a father's day reward for myself. As we pulled in yesterday morning, fish jumping and flopping greeted our anticipation. I grew up fishing for bass in Virginia so just arriving at this secluded little lake brought back a ton of memories for me. We fished from belly boats with a combination of sinking lines and streamers as well as floating lines and poppers. I started the day with the latter and was greeted very quickly from a bank-side bass that engulfed my popper as soon as it landed - not a bad way to begin. For the day, the bass ranged from 2lbs up to my largest at 5lbs or so. They tended to be slow, but once the water warmed up they started to pounce. All in all we did very well each catching enough bass to keep us giggling at their antics and, when it slowed, we played with the bluegill which, by the way, should not be ignored as their are plenty in their that come in dish-shaped sizes. As a side note, the gills are on the spawning beads so they are quite greedy right now. I truly enjoyed this little lake and will fish it again - next time I'm going to bring my kids so that they can just play with those gills. Thanks to the Vance's for such a great little property. ~ Jamie C -- June 19th, 2011
Water crystal clear and decent sized bass hard to come by. Hooked one that pulled the canoe around before getting off. Wife caught a bluegill and while reeling it it a huge bass grabbed it. Finally let go! Had another occasion where a large bass came after a hooked bluegill.Did catch bluegill all day on pheasant tail. Suggest a fly that imitates a bluegill, since this is the classic bass-bluegill lake. ~ Walt G -- June 4th, 2011
Display All Log Book Entries