South Platte, Middle Fork A-11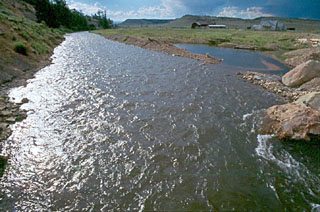 Description: This 1 1/4 mile stretch of the Middle Fork of the South Platte averages 20 to 25 feet in width and and contains good numbers of browns and rainbows ranging from 9 to 13 inches. Some larger browns can also be caught, especially during the months of September and October. This property is only available on Mondays, Tuesdays, and Wednesdays.
Location: The ranch is located 3.1 miles north of Hartsel, approximately 1 1/2 hours SW of Denver.
Capacity: Limited to 2 anglers.
To make a reservation call 303-421-6239 or 1-800-524-1814.
Rate Notes:
Rates:
Weekday
Adult


$60.00

Weekday
Adult 1/2 Day


Weekday
Adult Aftn.


$45.00

Weekday
Child


NP

Weekday
Youth


$45.00

Weekday
Youth 1/2 Day


Weekday
Youth Aftn.


$33.75

Weekend
Adult


n/a

Weekend
Adult 1/2 Day


Weekend
Adult Aftn.


n/a

Weekend
Child


n/a

Weekend
Youth


n/a

Weekend
Youth 1/2 Day


Weekend
Youth Aftn.


n/a
Property Log Book Comments
Caught many rainbows and a few small browns. It was overcast from the time I arrived about 10 a.m. until about 4 p.m. The water visibility was 4+ feet. Very clear. The ambient temp was no higher than 54 degrees. The water temp was 42 degrees. I found no observable brown trout redds. Caught 24 larger rainbows and smaller browns up to 15 inches until I quit counting the little ones. Rainbows were the larger trout. Little to no wind. My thanks to the owner for the outhouse across from the parking lot. No observable hatches during the day. Trout caught on Amy's Ant and red copper john, size 14 and 18 respectively. It was an enjoyable experience. My thanks to RMAC people for securing the lease. ~ Gene -- October 21st, 2015
Good fishing until a storm rolled in mid afternoon. Landed 18 fish. Fish seemed to like small stimmies, buggers, and san juan. Landed 24" brown on a black bugger at the top of the property and a 22" brown on a small stimmy at the bottom of the property. ~ -- August 13th, 2015
Another great day on the Middle Fork. Water was high, around 220 CFS, but fairly clear. Fished all day until about 6 pm. Was a 30 plus fish day with two browns over 20" at about 3 lbs and three bows about the same. All fish caught on a Green Pat's Rubber Leggs #10. No hatches to speak of and of course the rain came in the afternoon. ~ Russ Laurier -- July 15th, 2014
Nice day in S. Park. Flows good at 60 after rains. Started with small caddis even though no risers. Not much action. Went to hopper/dropper ( green copper John) Fish started to hit hopper so removed dropper. Several small fish ( 6-10") on hopper- largest 15" feisty bow. Hooked a couple larger but Lost. Fished from upper boundary down on bugger - couple of 15" bows and one brown. Fish pretty spooky -think the property getting a lot of pressure from other fishing group compared to previous years. A great place to spend the day- lots of fish and beautiful surroundings. ~ Bill Jameson -- September 4th, 2013
I was surprised to find the flows still somewhat brisk through this property. There was no real hatch to speak of, so I spent some time trying to figure out what the fish were eating. Tried everything, including stimis, ants, nymphs, streamers, rubber legs, surface, deep... What seemed to be most productive was a bushy hand tied Ausable Wolf pattern. Nothing like catching fish on a big dry fly! The only problem was that many of the fish that hit the fly were too small to take the hook! This property has so much variability; deep pockets, cut banks, shallow riffles. With nothing in particular being the ticket, the urge is to keep changing between dry, nymphing and stripping. That gets old! I think there were big fish that were hunkered down deeper than the dry- dropper could reach in those bigger holes. That said, the dry fly action on the Wolf was steady enough. Lots of 8-12 inch browns and rainbows. The prize was a nice 18 inch brown that was in a shallow riffle. Over all, this is a nice ranch property with a beautiful, well structured stream worth a visit. ~ npa5 -- July 10th, 2013
Display All Log Book Entries