A-10 Tarryall Creek At Lazy River ranch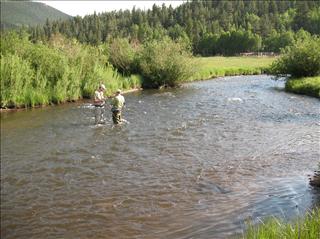 TARRYALL CREEK AT LAZY RIVER RANCH A-10
//php woo_post_meta(); ?>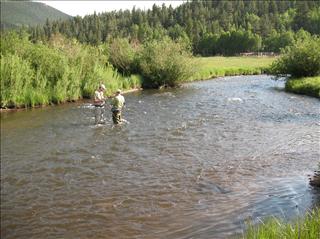 Description: This creek traverses a mile and a half of willow dotted meadow and has an amazingly varied habitat ideal for trout. A textbook creek with pools, riffles, flats, cutbanks, runs and pocket water. Browns and rainbows from 8 to 12 inches with larger trout in the prime lies. There are also some big pike waiting for your 8-weight and streamers.
Location: A-10 is 4 miles downstream of our A-8 property and approximately 6.5 miles below Tarryall Reservoir or 22.5 miles on CR 77 from Jefferson. From Lake George on CR 77 the property is approximately 25 miles.
Capacity: 3 anglers or 2 groups of 2 each.
To make a reservation call 303-421-6239 or 1-800-524-1814.
Rate Notes:
Rates:
Everyday
Adult


$70.00

Everyday
Adult 1/2 Day


Everyday
Adult Aftn.


$52.50

Everyday
Child


CNP

Everyday
Youth


$52.50

Everyday
Youth 1/2 Day


Everyday
Youth Aftn.


$39.38
Property Log Book Comments
Beautiful weather day. Sunny and clear. Great meadow fishing with easy access. Creek is low, water is clear and the fish are spooky. Tough day of fishing but we caught a few 10-12 inch browns. I would wait until next spring to return. ~ Billy -- October 16th, 2017
Caught a couple of browns in the riffles on #14 black foam caddis before deluge at about 1:30 p.m. A few strikes on other top water flies. No takes on nymphs or emergers. Although fishable, the water flow from upstream spiked up to almost 100 at the Tarryall spillway which means it added to the runoff from the rain storm. The creek was full from brim to brim. This creek is wider and deeper than at A-8. It has much less fishing activity than I expect from the Tarryall. Mosquitos were annoying but the deer flies bit right through my sun gloves. Be sure to load insect repellant onto the backs of your hands. The deer fly bite is painful and very distracting. Trico hatch about 10:30 out of a riffle for about 15 minutes. No other large hatches noted. The precipitation was recorded at over .5". Water temp was about 60 degrees f. I'm looking forward to going back when the water flow is much lower, the mosquitoes have retired, and after the hay has been cut. ~ Gene -- July 31st, 2017
Nice day on Tarryall. Flow about 60 cfs--fished upstream with small caddis and copper john- red. Caught several small bows and browns - 8-10" on dropper. Woolly bugger ( small black) brought a couple of bows to 16" on lower end. . Fished from lower end to parking with Royal Wolff ( #16) and caught 4 bows 17-19"- they must have loved the red bodies! Who knows what fish think! Great day with good mixture of flies and fish. ~ Bill J -- July 6th, 2017
6/26/17, Really fun day at A-10! Weather was mild, flows were up a little and it was relatively sunny. We walked to the lower boundary and fished our way up. We started the day by throwing Stimis and Chernobyl's, the browns were really active and aggressive! The bugs would hit the surface and if presented right a brown would come up and hammer either fly. We caught about 10 or so this way. The browns were mostly in the riffles and soft water out of a run. Then the real fun started, we came up on the deep, slow pools and threw the same rigs. I had 2 monster rainbows slam the Chernobyl's, I fought them each for awhile and finally snapped off. They were at least 20" and really aggressive! But the highlight of the day was in another one of these big pools. I was throwing streamers, double thin mint, into the deep holes and I got a little brown and as I was bringing it in a HUGE rainbow came from the depths and tried 3 times to eat the brown! It was a first for me. Beautiful property with tons of options, wished we could have fished longer. Make sure to bring bug spray, the mosquitoes were thick in the slow water. ~ Brad Rettig -- June 25th, 2017
Water flows on Tarryall Creek remain low (20cfs) and clear, making fishing challenging. The upper and lower ends of this property seem to hold most fish. We landed 5 good fish between 2 fishermen, all on streamers. South Park winds were particularly brutal that day and an approaching storm sent us packing around 4pm. Nonetheless, it was a fun day on the river in a scenic surrounding. ~ Fabrice -- April 25th, 2017
Display All Log Book Entries