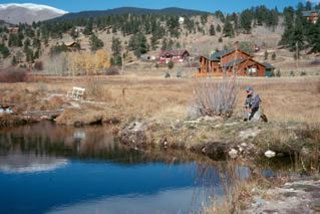 Description: The trophy trout on Deer Creek & Ponds offer members the chance to sight cast to truly large fish. The site contains a series of beaver-dammed ponds and a small flowing creek, all loaded with lunker-sized trout.
Location: This property is located 7 miles east of Bailey.
Capacity: Limited to 2 anglers.
To make a reservation call 303-421-6239 or 1-800-524-1814.
Rate Notes:
Rates:
Everyday
Adult


$75.00

Everyday
Adult 1/2 Day


Everyday
Adult Aftn.


$56.25

Everyday
Child


$0.00

Everyday
Youth


$56.25

Everyday
Youth 1/2 Day


Everyday
Youth Aftn.


$42.19
Property Log Book Comments
Big fish but PhD's, took all day to get one on an attractor / dropper, practically used everything in the box and finally got a nice rainbow. My son had better luck with hare's ear for the brookies that are high school educated. Lots of willow so could only fish the two main ponds without too much obstruction on the back cast. ~ Bo Donegan -- August 12th, 2013
Arrived at 9am, departed at 3pm. I was guiding a friend (a new member) who lost his home to the Lower North Fork Fire last March as a Birthday gift. Stayed mostly to the main pond, the willows are starting to take over the property, so back casts... Also confirmed the feeding reference in earlier posts with owner, so maybe ask Don and gang to ask owners to cool feeding the day you arrive. We caught 14 fish, 7 nice rainbows rest 4-6" brookies – I'll post a few to the Facebook page. Rainbows were caught on RS2's, Copper John's and Woolley Buggers. Never did see a surface hatch and very few fish rising. The little brookies liked my rather large brown Woolley bugger. Also, looks like the kind of property for terrestrials in the summer. As posted in the past, the fish are spooky, you catch one or two, or not pay attention to your proximity to water, and that's it for 20-30 min. or so. Patience however paid off, give'em a break and they will reward you on this property. ~ George Schmidt -- May 28th, 2013
Road is passable. The rancher has dredged his irrigation ditches and most of the water stays in the ditch. Only a couple of hairy spots, but passable when dry. Fishing was great. I didn't catch the famous lunker of Kremmling, but I caught a bunch of 2 to 3 lb. bows. I also caught a brown, but all the others were bows. Hitting on orange scuds, green and copper copper johns, purple leech, and pheasant tail flashbacks. When the betas hatch hit, mid afternoon, I went to a parachute adams and they hit. Then the wind came up, the sky looked ominous and I left about 3 pm. Great day. ~ Maynard -- May 20th, 2012
My wife and I fished this piece of water on a beautiful fall day. We each caught a couple of huge fish and a couple of small fish. The huge male rainbows kept on trying to eat the little brookie on the end of my line, very crazy thing. Fun day for sure, nice little table for lunch. I tried almost every fly in my boxes, no one fly was the answer just keep switching it up on them. ~ Chef -- September 13th, 2010
Really nice piece of property - Small but nice. Started around 9 and fished until 3. Lots of fish to be found but really hard to get them interested in eating. Started with some dries but knew that wouldn't work but always hopeful..... Then went with a dry, dropper, dropper. The bottom beinf a pheasant tail - plain no bead. Nothing hit a bead today. Finally got 2 on the stimulator dry. Small around 8-9 inches. Then the big ones decided the PT was looking good. Hooked 10 and only landed 2. These may be planted fish and pets to the owner but they are really powerful. Light hit but once they felt the hook the rtace was on. Really hard to land with 5x or 6x. Just too many obstacles. Straightened 2 hooks trying to keep them away from stumps. Even though I didn't land them they still gave me some time to play before laughing at me. A really nice day - BTW I really enjoyed the picnic table and the park bench. Just nice to have a place to sit down!!! ~ MG52 -- August 31st, 2010
Display All Log Book Entries