A-20 Arkansas River below Big Bend
//php woo_post_meta(); ?>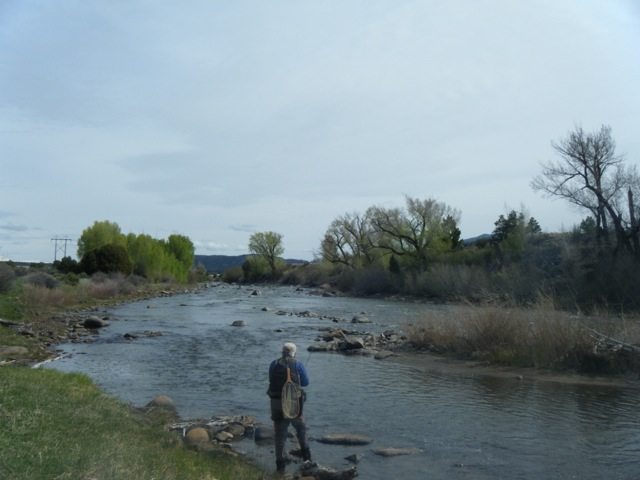 Description: Just over a mile stretch of the Arkansas river, Located downstream of Browns canyon. Designated as gold medal water. Great populations of sizable brown and rainbow trout. Property contains a combination of riffles and long runs with pocket water on the lower end.
Location: Located just south of the junction of route 285/24 and route 291, and north of Poncha Springs along 285/24
Capacity: 3 anglers per day
To make a reservation call 303-421-6239 or 1-800-524-1814.
Rate Notes:
Rates:
Everyday
Adult


80.00

Everyday
Adult 1/2 Day


Everyday
Adult Aftn.


60.00

Everyday
Child


0.00

Everyday
Youth


60.00

Everyday
Youth 1/2 Day


Everyday
Youth Aftn.


45.00

Weekday
Adult


80.00

Weekday
Adult 1/2 Day


Weekday
Adult Aftn.


60.00

Weekday
Child


0.00

Weekday
Youth


60.00

Weekday
Youth 1/2 Day


Weekday
Youth Aftn.


45.00

Weekend
Adult


80.00

Weekend
Adult 1/2 Day


Weekend
Adult Aftn.


60.00

Weekend
Child


0.00

Weekend
Youth


60.00

Weekend
Youth 1/2 Day


Weekend
Youth Aftn.


45.00
Property Log Book Comments
Awesome day on A-20. We got to the river around 9:00 am and the flows were at 350 cfs, water clarity was perfect. We hit the lower section and fished all the pocket water to the lower boundary. It was a little slow, but had some takes on midges and streamers. After lunch we fished the upper section above the big hole and did very well. There were three of us total and we each landed 12+ fish. Some dinks, but mostly 14" - 19" browns with the occasional hard fighting bow. Once we found a hole we could pull multiple fish out without spooking them. Look for calm water below the big rocks. There was a big PMD and BWO hatch going on all afternoon. We got them with dries, nymphs and streamers. ~ Brad Rettig -- October 2nd, 2017
Had good luck using a hopper-dropper combo, size 12 foam hopper and size 18 copper john. Had 3 fish take the hopper but most were caught on the dropper. Saw a few grasshoppers and mayflies during the day. ~ Ed Shappell -- October 7th, 2016
Tough day at A-20. We arrived about 9:00 am after a cool evening with a good amount of rain. We fished towards the upstream boundary hitting all the holes along the way. We threw everything we had at them, not much not. The clarity was really chalky, we spoke with a guide who floated through and he mentioned a creek was dumping a lot of rainwater in upstream. We missed a couple each and landed a few. The only color that worked was bright green, we threw green caddis and green RS2s. One of the group members threw a streamer to rising fish and got one. Towards the end of the day the clouds rolled in and there was a hail storm that unleashed on us. This stretch is so fishy, it's just too bad it wasn't our day. ~ Brad Rettig -- August 26th, 2016
Members report good fishing for big, slab-sided rainbows and browns. Stoneflies and caddis will be the predominant hatches overall. Swinging streamers or soft hackles is always a good plan B for this stretch, bring your switch rod if you have one in your fly gear bag of tricks. ~ RMAC staff -- July 13th, 2016
We had a great day fishing this property. Temperatures began at a sunny 50 degrees and topped out at about 65 degrees with some cloud cover and evidence of storms in the surrounding mountains. We fished a stonefly to a caddis larvae to a blue-winged olive emerger in the morning and removed the stonefly in the afternoon. No dry fly fishing, but fun nonetheless. We caught fish on all three types of fly. I would guess between the two of us we hooked up with over 20 brown trout and brought about half to the net. Only one or two were under 14 inches and the largest was about 20 inches. All in all a great day out - we'll be back! ~ Matt Kryman -- April 12th, 2016
Display All Log Book Entries