If you have a picture of a fish over 20″ long that you think belongs in the Hall of Fame, you can e-mail it to us, along with info on which of RMAC's properties it was caught from.
---
1)
Vinnie "Captain Ahab" Rigatti
shows off his catch on Clear Creek (Property A-16). This huge albino fish is thought to be a not-so-distant cousin of the great white whale, Moby Dick.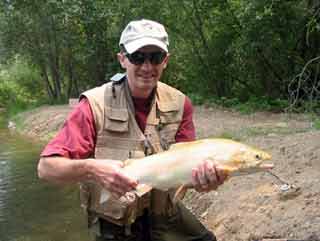 ---
2)
Vance "Red" Herring
displays his enormous catch from the Yampa River (Propery C-57). Prior to this catch, scientists had believed that dinosaurs were extinct. However, this picture has provided convincing proof that aquatic dinosaurs have survived to the present day.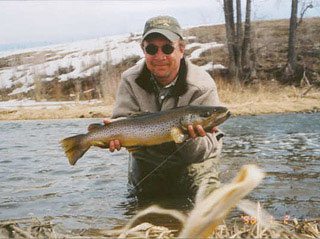 ---
3)
Jack "The World's Youngest Fly-Fisherman" Cardillos
eagerly awaits the first bite on his line. Although this inductee into the Hall of Fame has not caught a single fish, we feel it would be remiss not to include RMAC's youngest fly-fisherman in the Hall. His father, Rich Cardillo, writes, "Some might argue it is too early to get your son going, but to see your 2 year old son run a bead head pheasant tail drag free through a promising riffle is all a father can ask for! Note the focus on young Jack Cardillos face!"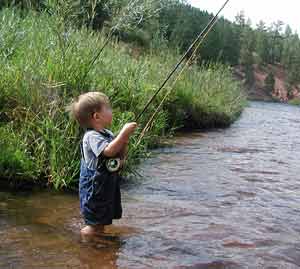 ---
4)
John "Something's Fishy" Ragatz
has attempted to mend his tarnished reputation by sending us an image of a fish that he insists was not taken from a stock truck. Unfortunately, controversy seems to follow Mr. Ragatz, and we are now investigating whether John has been using performance-enhancing drugs to increase his stamina and ability to reel in the big fish. Sadly, it seems that Mr. Ragatz is now the Barry Bonds of fishing.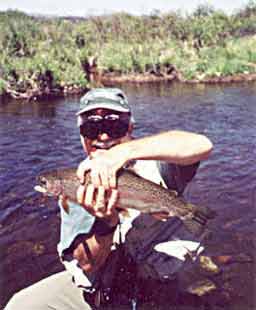 ---
5)
Matt "The Fish Whisperer" Buchenau
holds the enormous rainbow trout he caught on Empire Lake (Property A-18). As usual, Matt used the revolutionary "fish-speak" to talk this fish into biting his line. Pretty soon, he will not need a fishing line at all, as he will have the fish trained to jump out of the lake and into his net.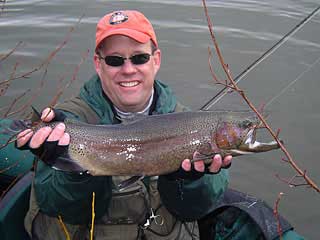 ---
6 )
Zach "The Fish Whisperer in Training" Buchenau
(age 12) proudly displays the rainbow he caught on Empire Lake (Property A-18). Under the apprenticeship of his father (above), Zach has nearly mastered the techniques involved in catching large fish. However, he has yet to master the most important technique of holding the fish closer to the camera to make it appear even larger. You will notice that some of the more seasoned anglers (particularly his father) have this technique down to an art form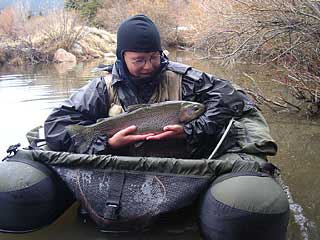 ---
7)
Paul "The Fish Detective" DeFalco
presents the giant rainbow he caught on the North Fork of the South Platte (Property A-6). After inspecting this image, scientists believe that this particular fish may be evolving into a new species of giant rainbow trout that will one day catch humans!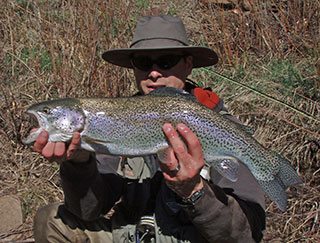 ---
8)
Chuck "Superfisherman" Kraus
holds the 22" cutbow he caught on the Roaring Fork (Property C-60). While most mere mortals need two hands to hold such a fish, Chuck shows off his superhuman strength by casually holding this monstrous fish with one hand.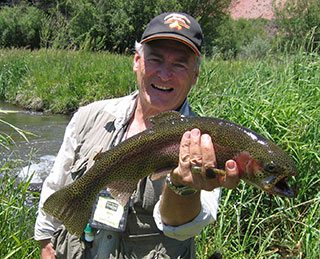 ---
9)
Gene "Big Fish" Edwards
holds what is believed to be the off-spring of the Loch Ness Monster. This creature has apparently migrated some distance, as it was caught on the Yampa River (Property C-58).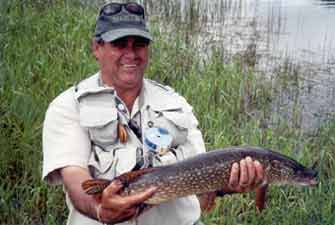 ---
10)
Kris "Bigger Fish" Edwards
shows off the fish she caught on the White River (Property C-64). Kris's historic induction into the Hall of Fame makes her and Gene the first husband and wife team to make the Hall! This is a day that few will soon forget.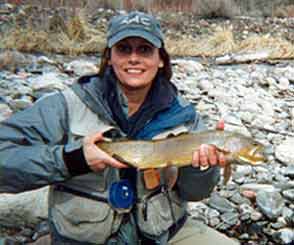 ---
11)
Connor "River" Banks
(8 years old) shows off the huge rainbow he caught on Gianinetti Springs Creek (Property C-60). Connor is part of RMAC's top-secret program to recruit younger and younger fishermen in order to ensure the organization's existence for many decades into the future.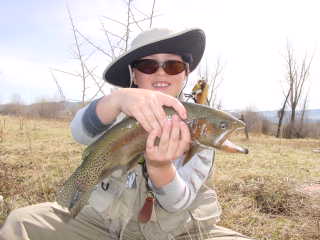 ---
12)
David "Doctor of Fishology" Gilliland
displays his catch on the Yampa River (Property C-56). This is the largest fish ever caught in Colorado (assuming, of course, that you don't count all of the bigger fish that have been caught).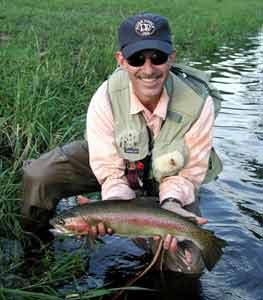 ---
13)
Keegan & Quinn "The Fisher Brothers" Jurkiewicz
proudly show the huge fish they caught on Empire Lake (Property A-18). Alone, each brother is a good fisherman. But when they team up and combine their powers, the fish tremble in fear!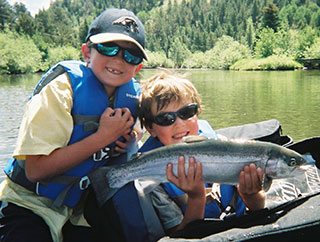 ---
14)
Charlie "The Young Tarzan" Valuck
shows off the massive rainbow trout he outsmarted at Gianninetti Pond (Property C-60). Charlie humiliated his father, Rob, by catching the largest fish of the day. In his embarrassment, his father gave up fishing and took up croquet.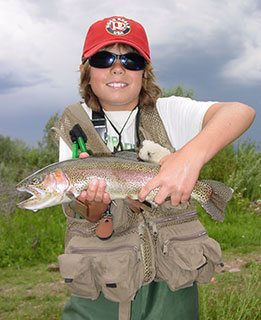 ---
15)
Andy "Fisher King" Neff
proudly displays the fish he caught on the White River (Property C-64). The White River has now produced two Hall of Famers. We're beginning to think that perhaps the White River should be inducted rather than the fishermen.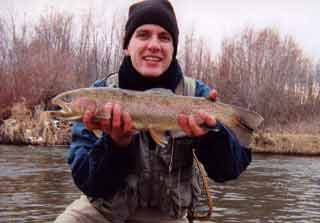 ---
16)
Pat "The Queen of Fish" Barz
has the proud distinction of being the first female inducted into our Hall of Fame. So as not to make the guys too jealous, she has provided a picture of one of her "smaller" fish, which was caught on Muddy Creek (Property C-42).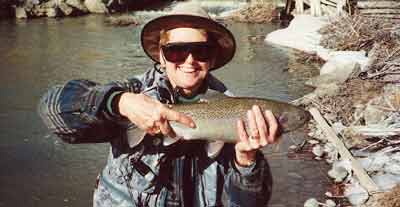 ---
17)
Jason "Fisher" Price
shows off his 46" rainbow trout, which was caught on Gianinetti Spring Creek (Property C-60). While this fish may not appear to be 46", keep in mind that Jason himself is over 10 feet tall and the river behind him is as large as the Mississippi.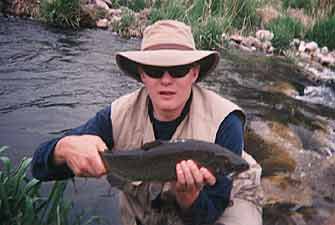 ---
18)
Ed "The Man Amongst Fish"
Teter
caught this rainbow trout on Empire Lake (Property A-18). This fish was so enormous that Ed was unable to fit the entire fish inside his camera frame. Ed will soon be purchasing an ultra-wide-angle lens just to be able to photograph his fish.

---
19)
Terry "The Fish Mocker" Larrew
shows off the gorgeous brown trout he caught on Ranch Creek (property C-45). Before being caught, this fish was considered to be the "Tom Cruise" of fish and was popular amongst all the lady Salmo truttas. Unfortunately, after it was hoodwinked into biting a fake fly, it became the laughingstock of other fish and will never again regain its former reputation.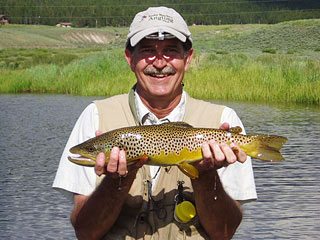 ---