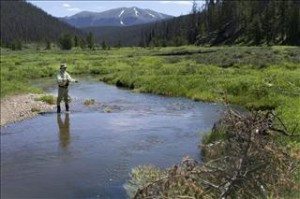 Description: The Club's one and one quarter mile of Willow Creek is located at 9000 feet, and is a 10- to 20-foot wide mountain creek that winds through open meadow with waist high bushes and sparse willow clumps. A gravelly bottom assures easy fishing for wild 14-inch browns and smaller brookies. This is an ideal place for beginning anglers to learn fly fishing techniques. Waist high waders or wet wading can be utilized.
Location: The creek is located west of Granby off Stillwater Pass Road which is Forest Road 107. A camping site is available.
Capacity: 2 anglers or more if all in one group. This property is available only on Tuesday.
To make a reservation call 303-421-6239 or 1-800-524-1814.
Rate Notes:
Rates:
Everyday
Adult


$60.00

Everyday
Adult 1/2 Day


$45.00

Everyday
Adult Aftn.


Everyday
Child


$0.00

Everyday
Youth


$45.00

Everyday
Youth 1/2 Day


$33.75

Everyday
Youth Aftn.

Property Log Book Comments
I spent 3 hours on our newest property. Fished some and also took several photographs for the club to possibly use on the web site. The air temp was 60 degrees and the water was in the low 50s. Light winds from the west. Sun made for good shadows along the south side of the creek expanding the use of the cut banks on that side. I caught 4 fish, all brook trout and the average size was 12 inches with the largest at around 14 inches. I used a 4 wr 9 ft rod with a Sofa Pillow Stimulator and a Hare's Ear dropper. They all took the dropper. All 4 were caught betwen 11 and noon. ~ Mike Helms -- June 25th, 2013