CONTACT US
Rocky Mountain Angling Club
3805 Marshall Street – Suite 303
Wheat Ridge, CO 80033
phone: 303-421-6239
Toll-Free: 800-524-1814
fax: 303-421-4807
email: rmangling@gmail.com
Recent Log Entries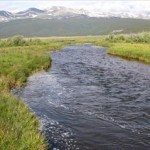 Comments on Arkansas River, Lake Fork A-4
Date Fished: 2014-10-11
The day was a mix of clouds and sun, with occasional wind gusts. The predicted high was in the mid-40s, but temperatures rose into the upper-50s. It was beautiful weather for that altitude. The fishing was good. I have to say that the nicer it became as the day wore on, the slower the fishing was. The first few hours saw steady action on midge pupa patterns, and woolly buggers. Once the warmest temps of the day hit, the fish got more sluggish, which I thought was odd. I could not fish it all the way to the top since the livestock had settled into that upper part of the stream quite nicely - both on the banks, and in the river as well. Oh well, with the fresh blanket of snow on all those 14'ers and the beautiful weather, the good quality fishing was a bonus. That valley is breathtaking. ~ Mike Murphy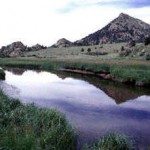 Comments on Tarryall Creek A-8
Date Fished: 2014-10-19
Great day on A8. Upper section sight fished to risers. Primarly amy's ant and small BWO patterns. 2 20" rainbows to net among the many fish caught. Only one brown. Large herd of Bighorn sheep by the river on the upper section just watched us fish. Lower section mainly stone flies in the faster water. Similar sight fishing to rising fish in the slower water. One cutthroat among the fish caught on the lower section, rest rainbows. ~ Mike Narkewicz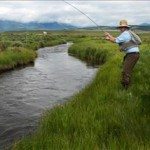 Comments on Lower Michigan Creek A-14
Date Fished: 2014-10-11
Surprisingly good day on A14... temps reached mid 50s, partly cloudy, manageable wind. We fished small streamers all the way downstream and picked up a brookie (wooly bugger) and a couple browns (muddler minnow). Coming back upstream caught 15 more browns on either large beetle or purple prince nymph... ratio about 50:50. Great fall fishing! ~ B.H.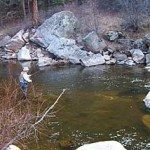 Comments on Big Thompson River A-19
Date Fished: 2014-10-10
Temps in the 50s, partly cloudy skies... took a while for the water, and the fishing, to warm up. The pocket water below the bridge was diificult. Picked up a small rainbow on a prince nymph and had a few lookers at the rubber legged stimulator. The deep runs above the bridge proved to be better (after lunch). We found a red Pig Sticker drifted deep to be effective. 2 of us landed 10 more rainbows up to 12 inches. ~ B.H.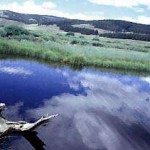 Comments on Ranch Creek & Ponds C-45
Date Fished: 2014-10-10
Browns have built the spawn beds and are in spawning. Many small fish near the beds probably going after eggs or bed load. Good day many small Browns, but huge Browns in the spawn. ~ Bob schatz